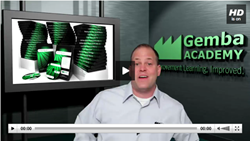 "Knowing that Gemba Academy has impacted the lives of so many people is truly humbling and not something that I, or the Gemba Academy team, take for granted" - Ron Pereira
(PRWEB) March 17, 2014
We are proud to announce that, over the past five years, Gemba Academy has provided a total of 500,000 hours of free preview training, and 800,000 hours of paid subscription training. Despite this growth, our commitment to making Lean and Six Sigma education accessible and stress-free remains entirely unchanged.
As Kevin Meyer, Cofounder of Gemba Academy, explained, "Gemba Academy has taken my passion for teaching to a whole new level by delivering over 1.3 million hours of lean and six sigma training to thousands of organizations worldwide. Being able to create such an impact on organizations, and individuals, is both humbling and rewarding."
To show our appreciation, customers will receive a full set of DVDs with the purchase of any one of our subscriptions. With up to 81 discs, you really can learn anywhere. This promotion will remain active until midnight on March 31, 2014, or until we receive 500 orders. For more information, click here.
"The best part of this journey has, without a doubt, been developing so many relationships (and friendships) with continuous improvement practitioners from all over the world. Knowing that Gemba Academy has impacted the lives of so many people is truly humbling and not something that I, or the Gemba Academy team, take for granted," said Cofounder Ron Pereira.
About Gemba Academy:
Gemba Academy, a leading provider of video-based Lean manufacturing and Six Sigma training, has delivered online training to more than 2,000 companies around the globe. Designed by and for real practitioners, Gemba Academy has revolutionized online training with their unique "site-based subscription" model. With more than 500 videos, Gemba Academy provides flexible solutions that can serve as a baseline for training or enhance existing continuous improvement efforts.