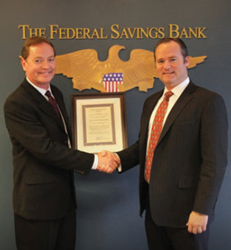 Looking at a credit report annually to review any errors is important in that it could affect ones ability to get approved for a mortgage.
Chicago, IL (PRWEB) March 12, 2014
The Federal Savings Bank reminds readers that a credit score can mean several different things throughout one's life. Most importantly, however, it allows lenders to see what type of borrower you are. Do they pay their bills on time? How much debt does one keep on their cards? These are all questions that can be answered by reviewing a credit report. Several factors contribute to a credit score, but when someone is trying getting a mortgage for a home purchase, every factor can be important.
Free report
Every year, one is entitled to view their credit report for free. This allows individuals to view their payment history, available credit and total debt. While these reports typically don't come with the credit score unless specifically requested, which sometimes requires a fee, the report can give the historical borrowing analytics of that individual. Looking at a credit report annually to review any errors is important in that it could affect ones ability to get approved for a mortgage. Remember, the higher the credit score, the higher are the chances of getting better terms on a mortgage, including lower interest rates.
Credit standards
During the recession, many lenders tightened their credit standards to ensure that borrowers would be able to pay back their home loans. With millions of homeowners falling underwater with their mortgages, fewer lenders were willing to approve subprime loans. However, new homeowner programs have recently influenced credit standards to loosen a bit due to many applicants with lower credit scores as a result of the recession. Having a foreclosure or short sale can affect a credit score for a long time. To get people back into new homes, lenders have started to approve mortgages with more accessible standards. This means that lenders may look at other financial documents other than a credit score or report when deciding whether or not to approve a home loan. The Federal Savings Bank goes through this process since it understands that the future of the housing recovery will be largely supported from first-time home buyers. Unfortunately, many first-time homebuyers, who are of a younger generation, are already burdened with student debt. Thus, The Federal Savings Bank goes the extra step to see if these younger Americans are still financially responsible to obtain a home, even if they do not have a large enough down payment.
Alternative data
The Federal Savings Bank still needs to assess the risks of a potential borrower before handing them a home loan. However, this can be tough to do when the recession has affected so many credit scores. Instead, The Federal Savings Bank is now utilizing more financial and personal information during the mortgage application process to help get Americans approved for a mortgage now. This means that borrowers with less than pristine, little or no credit history - who once may not have been able to get a mortgage - may now be qualified for a home loan.
Contact the Federal Savings Bank, a veteran owned bank, to explore affordable mortgage options.