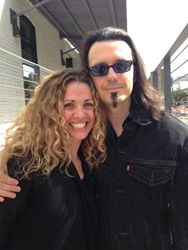 "Life is short, if you're not following your passion you're wasting your time." - Damian Echols
New York, NY (PRWEB) March 20, 2014
StudioLiveTV recently had the honor of filming "Yoga and Magick on the Mat" at Yoga Works Soho. Seane Corn and Damien Echols came together to give an emotional, sold out workshop for more than 100 participants.
This special workshop can now be purchased for $30 for 90 days of unlimited, online viewing. Portions of the proceeds will go to The Innocence Project,
the organization that helped gather DNA evidence that led to Damien's release from prison.
Damien Echols, one of the West Memphis Three, was convicted of a triple murder he did not commit and was sentenced to death. His story is riveting and his message is clear.
Seane Corn is one of America's most inspirational and revolutionary yoga teachers. Seane links the breath with movement and adds a dose of the spiritual.
Seane and Damien led a very special night of yoga, ritual, reiki and meditation. They combined their collective gifts to bring an integrated mind, body and spirit practice. Seane's inspirational style of teaching, rooted in the themes of self-empowerment, self-actualization and life purpose, combined with Damien's mystical teachings, will build upon these techniques into a asana/meditation practice that will leave you inspired, centered, grounded and renewed. This class is for all levels of experience.
StudioLiveTV offers a variety of classes, workshops and seminars from all over the world. From on-demand lectures to live-streaming classes, StudioLiveTV brings the best fitness, yoga and wellness professionals together online.