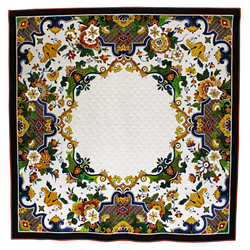 Lancaster, PA (PRWEB) March 12, 2014
American Quilter's Society, the largest quilting membership organization in the world, is pleased to announce the winners of the AQS Quilt Contest. Over $50,000 in prizes will be awarded to the winners at AQS QuiltWeek®- Lancaster, PA, taking place from March 12 to March 15 at the Lancaster County Convention Center, 25 South Queen Street, Lancaster, PA 17603.
As part of the American Quilter's Society's celebration of quilting excellence, the contest recognizes the skill and creativity of today's quiltmakers, as artists compete in the AQS Quilt Contest for more than $50,000 in cash awards. Entries come from around the world to compete in 13 different categories.
This year's winners come from four different countries and seventeen different states, with several prize winners from the host state of Pennsylvania. These winning quilts will astound the 15,000 quilters expected to visit AQS QuiltWeek® in Lancaster, Pennsylvania, this week.
The AQS Quilt Contest Prize Winners are as follows:
Best of Show Award
ELATED, Ted Storm, 's-Gravenzande, Zuid-Holland, Netherlands
Best Bed Quilt Award
BIG BERTHA, Margaret Solomon Gunn, Gorham, Maine
Best Hand Workmanship Award
JOYFUL HEART, Aki Sakai, Hachiouji, Tokyo, Japan
Best Machine Workmanship Award
A LETTER BIT OF BAALTIMORE, Janet Stone, Overland Park, Kansas
Best Longarm Workmanship Award
ZEN GARDEN, Margaret Solomon Gunn, Gorham, Maine
Best Modern Quilt Award
BROKEN LADDER, Anne Hammond, Silver Spring, Maryland
Best Wall Quilt Award
FEATHERS AND FARMS, Joanne Baeth, Bonanza, Oregon
Bed Quilts – Hand Quilted
First SWEET FIFTEEN, Miyuki Hamaba, Sanda, Hyogo, Japan
Second SPIRIT OF WILLIAM MORRIS IN MY GARDEN, Helen Doyle, Mascouche, Quebec, Canada
Third GRANDMOTHER'S ROSE GARDEN, Donna Gilbert, Chambersburg, Pennsylvania
Hon. Mention THE RED ONE, Barbara Korengold, Chevy Chase, Maryland
Bed Quilts – Machine Quilted
First A TO Z FOR EWE AND ME, Janet Stone, Overland Park, Kansas
Second GREEN MILES, Peggy Kragnes, Felton, Minnesota
Third DRESDEN'S DILEMMA, Deborah Poole and Sharon Del Pino, Shelley, Idaho
Hon. Mention SUNSET, Kathie Beltz and Mara Novak, Greenfield, New Hampshire
Wall Quilts – Hand Quilted
First DREAMTIME, Antonia Hering, Hoorn, Noord-Holland, Netherlands
Second MY VERSION OF A PERSIAN, Christine Wickert, Penfield, New York
Third TATTED HEARTS, Cheryl See, Ashburn, Virginia
Hon. Mention BALTIMORE ALBUM TRIBUTE, Jackie Perry, Marion, Virginia
Wall Quilts – Home Machine Quilted
First FIRE IN THE SKY 2, Sherry Reynolds, Laramie, Wyoming
Second FLOODED, Tanya Brown, Sunnyvale, California
Third CRIME SCENE INVESTIGATION, Pauline Salzman, Treasure Island, Florida
Hon. Mention RUSTY BLOOMS, Cheryl Kerestes, Wyoming, Pennsylvania
Wall Quilts – Longarm/Midarm Machine Quilted
First RED VELVET, Lisa Calle, Pottstown, Pennsylvania
Second CHRIST IN GOLD, Laurie Tigner, Rapid City, South Dakota
Third THE SHELL COLLECTOR, Bethanne Nemesh, Allentown, Pennsylvania
Hon. Mention WHETSTONES AND STARS, Carolyn Rider, Portsmouth, Ohio
Wall Quilts – Modern
First SHERBERT AT THE BEACH, Stacey Day, Surrey, British Columbia, Canada
Second FLIGHT PATTERNS, Joni Morgan, Danville, Kentucky
Third SILK CONSTRUCTION, Carole Sorrell, Auckland, New Zealand
Hon. Mention UP THE WALL, Paige Alexander, Easley, South Carolina
All of the winning quilts, as well as the semi-finalist works, will be on display at the Lancaster Convention Center for the remainder of the week. In addition, AQS QuiltWeek® will be hosting a number of other special exhibits, workshops with some of the top talent in the quilt industry, and an extensive merchant mall comprised of both local and national vendors.
Admission to AQS QuiltWeek® is $14 per day and tickets can be purchased at the door. Multiday tickets are available. Hours are Wednesday, March 12 through Friday, March 14, from 9 a.m. to 6 p.m., and Saturday, March 15, from 9 a.m. to 5 p.m. Ticket and additional information can be found at aqsshows.com/lancaster or by calling 1-270-898-7903.
About the American Quilter's Society
The American Quilter's Society is the largest quilting membership organization in the world. For 30 years, AQS has been the leading voice in quilting inspiration and advice, through a broad suite of products—magazines, books, live events, contests, workshops, online networks, patterns, fabric, and catalogs. At AQS, we believe that with inspiration and advice, the creatively-minded individual can take their quilting projects beyond what even they had imagined. The leading authors in quilting choose to publish with AQS; the best in quilt artistry select AQS events to display their work; the newest quilters learn from the knowledge and inspiration of AQS members. For more information on the American Quilter's Society, please visit http://www.americanquilter.com or call 1-270-898-7903.