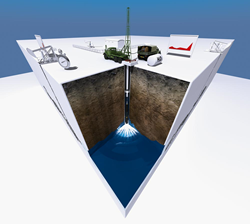 The unique value to oil producers of Propell's EOR technology was clear to us from the beginning
Houston, TX (PRWEB) March 12, 2014
Propell Technologies Group (OTCQB:PROP), an exclusive US licensee of Plasma Pulse technology for enhanced oil recovery (EOR), announces the appointment of NY-based ProActive Capital Group (PCG), a leading capital markets advisory and communication strategies firm, to assist with achieving investor and corporate awareness.
PCG assists emerging and developing companies to achieve financial objectives through active, multi-channel engagement with investors to facilitate dialogue with the investment community and public at large.
"We are familiar with the quality of work and investor access that ProActive Capital provides and believe they are wonderfully suited to deliver our message to the community of investors seeking to profit from the enhanced oil recovery sector," stated John Huemoeller II, Propell Technologies CEO. "Their multi-channel approach makes them a good match for our investor awareness needs and we look forward to updating our shareholders as we move ahead."
"The unique value to oil producers of Propell's EOR technology was clear to us from the beginning of our discussions, and we are pleased to be able to bring this opportunity to our community of investors, media, and trade professionals," commented Jeff Ramson, Proactive Capital CEO. "We look forward to working with their team and broadening Propell's exposure through our network."
ABOUT PROPELL TECHNOLOGIES GROUP
Propell Technologies Group, Inc. (http://www.propell.com/), through its wholly owned subsidiary Novas Energy USA, is the exclusive U.S licensee of the Plasma Pulse enhanced oil recovery (EOR) well treatment that is designed to improve production cost effectively, without acidization, hydrofracking or other chemicals. It develops and commercializes treatment and stimulation of oil wells with the potential to meaningfully improve production and enhance the recovery of oil and gas in existing wells.
This press release includes forward-looking statements of our current expectations and projections about future events. In some cases forward-looking statements can be identified by terminology such as "may," "should," "potential," "continue," "expects," "anticipates," "intends," "plans," "believes," and similar expressions. These statements are based upon current beliefs, expectations and assumptions and are subject to a number of risks and uncertainties, many of which are difficult to predict and include statements regarding the expected contribution of ProActive Capital Group and the results derived from use of our technology. The forward-looking statements are subject to risks and uncertainties that could cause actual results to differ materially from those set forth or implied by any forward-looking statements. Important factors that could cause actual results to differ materially from those reflected in our forward-looking statements include, among others, our ability to expand our market presence through the effort of ProActive Capital Group and the other factors described in our on Form 10-K for the year ended December 31, 2012, and any other filings we may make with the SEC. The information in this press release is provided only as of the date written, and we undertake no obligation to update any forward-looking statements contained in this press release on account of new information, future events, or otherwise, except as required by law.