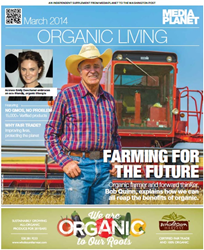 Washington, D.C. (PRWEB) March 12, 2014
The print component of "Organic Living" is distributed within this weekend's edition of The Washington Post in the D.C. metro area, with a circulation of approximately 450,684 copies and an estimated readership of 1.3 million. Its digital component is distributed nationally through a vast social media strategy and across a network of top news sites and partner outlets. To explore the digital version of the campaign, click here.
Bob Quinn, renowned organic farmer and futurist, graces the cover of the print publication. An exclusive interview with Quinn on the interior serves as a source of inspiration for readers and helps to establish a connection with the farm-to-table supply chain. The campaign focuses on living an organic lifestyle through the acknowledgement of product labels, ingredients, where it comes from and consideration of the profound effects it has on society and the planet. Inspiration is achieved through stories of passion, research and discovery.
This campaign was made possible with the support of the organic, eco-friendly, vegan actress, Emily Deschanel, The Organic Trade Association, The Non-GMO Project, Fair Trade USA, Just Label It, Rodale Institute, Kamut International and more.
About Mediaplanet
Mediaplanet is the leading independent publisher of content-marketing campaigns covering a variety of topics and industries. We turn consumer interest into action by providing readers with motivational editorial, pairing it with relevant advertisers, and distributing it within top newspapers and online platforms around the world.