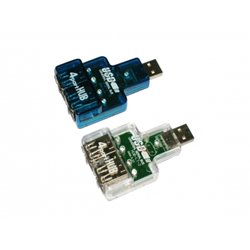 (PRWEB) March 12, 2014
Recently, Hiconn Electronics, a well-known electronics product manufacturer and retailer, has announced its new range of 4-Port USB 2.0 Hubs and launched a promotion for worldwide customers.
At present, all the company's new and useful 4-Port USB 2.0 Hubs are offered at low prices, up to 27% off. The deadline of the special offer is March 31. In addition, the company provides thousands of high end devices at its website. All its products are promised to have distinguished quality and great functions. The company's user-friendly website is a great place for clients who are looking for inexpensive high quality electronic devices.
The followings are some details of the nice 4-Port USB 2.0 Hubs:
--High-Speed USB (480 Mbps) & USB 1.1 (12Mbps)
--Compliant with USB 2.0 specification
--Compliant with USB specification rev. 1.1
--Equipped with over-current detection & protection
--Plug and Play
--1 upstream port & 4 downstream ports
--Support Windows ME / 2000 / 2003 / XP / Vista / Windows 7/8 and Mac OS 10.x
--Support various Linux kernels
"We are pleased to announce our new hubs and launch the special offer. The purpose of the promotion is to expand our market share in the international market. Please pay attention that the special offer will not last forever. Those who are interested in our new hubs should visit our website now," the CEO of the company says.
About Hiconn Electronics
Hiconn Electronics (Shenzhen Hiconn Electronics Co. Ltd.) is devoted to designing and manufacturing a wide range of connection cables and customized cable assemblies, offering many HDMI cables, VGA cables, SATA cables, USB cables, 1394 cables, DVI cables, SCSI (Small Computer System Interface) and more. For more information, please visit http://www.hiconn.net/.
Contact Person: James Yin (Sales Director)
Company Name: Shenzhen Hiconn Electronics Co., Ltd.
Address: Shenghua Building., Xixiang Road., Baoan District, Shenzhen, Guangdong Province, China
Zip Code: 518102
Tel: +86-755-8109 8345
Fax:+86-755-2779 3497