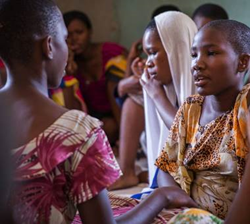 If we uplift the youth of Tanzania, it will bring positive changes in the country because adolescents make up 23% of the total population.
WASHINGTON, DC (PRWEB) March 20, 2014
The Microcredit Summit Campaign welcomes BRAC Maendeleo Tanzania as the newest Campaign Commitment member, joining a global coalition of microfinance actors committed to specific, measurable, and time-bound actions to advance the Campaign's goal of helping 100 million families lift themselves out of extreme poverty.
This coalition is led by the Microcredit Summit Campaign's 100 Million Project with the objective to reach the extreme poor with useful financial tools and services to support their journey out of poverty as a major step to ending extreme poverty by 2030.
In celebration of Global Money Week 2014, the Microcredit Summit Campaign with its partner (and Commitment-maker) Child and Youth Finance International (CYFI) co-hosted a webinar titled "How can Microfinance be more Inclusive to Children and Youth?" It featured the Empowerment and Livelihoods for Adolescents (ELA) program of BRAC Maendeleo Tanzania and highlighted the need for youth inclusive financial services in the effort to combat intergenerational poverty.
BRAC's ELA program works with vulnerable teenage girls in Tanzania to build their confidence while empowering them socially and financially. "If we uplift the youth of Tanzania," argues Walid Ahmed of BRAC Tanzania, "it will bring positive changes in the country because adolescents make up 23% of the total population."
Targeting girls aged 11 to 19 years old, the program is facilitated through an adolescent girls club and combines innovative livelihood and life skills trainings with a customized microfinance program. BRAC Maendeleo Tanzania is committed to providing pathways out of poverty through the ELA program by:
1. Doubling by the end of 2014, the number of both clubs and participants in the ELA program from 180 clubs reaching 7,600 girls to 360 clubs reaching 14,800 girls.
2. Doubling the provision of financial support through the ELA program from 2,000 girls through $300,000 to 4,000 girls with $550,000.
The Campaign looks forward to welcoming this new partner in the global coalition and sharing their progress towards the Commitment achievement at the 17th Microcredit Summit.
Read the BRAC Maendeleo Tanzania Commitment letter.
For more information on Campaign Commitments and the 100 Million Project, visit http://www.microcreditsummit.org or write to mycommitment(at)microcreditsummit(dot)org.
####
The Microcredit Summit Campaign (the "Campaign"), a project of RESULTS Educational Fund, is the largest global network of institutions and individuals involved in microfinance and is committed to two important goals: 1) reaching 175 million of the world's poorest families with microfinance and 2) helping 100 million families lift themselves out of extreme poverty. The 100 Million Project (focused on Goal 2) was launched in response to World Bank President Jim Yong Kim's call to end extreme poverty by 2030 and in recognition that full financial inclusion can only be achieved by targeting the extreme poor. The coalition of Campaign members announcing Commitments is aimed at motivating microfinance stakeholders to provide products and services that reach the extreme poor and facilitate their movement out of poverty. http://www.microcreditsummit.org