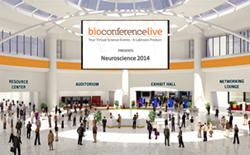 The intense two-day program will encompass teaching presentations, original research data, broad overview of new frontiers given by thought leaders in the field and discussion forums.
YORBA LINDA, CALIF. (PRWEB) March 12, 2014
BioConference Live has announced the official lineup of speakers for their upcoming virtual event, which includes a panel discussion on the BRAIN Initiative and many more high level speakers. The BioConference Live virtual neuroscience conference, slated for March 19-20, 2014, is an online event set to bring the neuroscience community together via live video webcasts and real-time networking. "Our conference requires no travel and no time away from the hospital or lab," Greg Cruikshank, CEO of BioConference Live said. "Attendees still receive all the benefits of physically attending a conference."
Research scientists, medical experts, principal investigators, post docs, lab directors, and other medical professionals will learn about recent investments and the scientific foci of the BRAIN Initiative through a panel discussion with key leaders from different scientific and funding regulatory agencies. The BRAIN Initiative is part of a new Presidential focus aimed at revolutionizing our understanding of the human brain. Invited speakers are distinguished scientists in the field of neuroscience who will present their research findings, give their views and perspective on cutting-edge neuroscience research topics and engage in information exchange through discussion forums and online interactions with the audience.
The Neuroscience conference will include topics from science journals such as Neurologic Function and Dysfunction, Behavioral and Cognitive Neuroscience, Neurologic Dysfunction from Human Diseases to Molecular Mechanism, Nervous System Development, Epigenetic Regulation, and Genetics of Neurologic Diseases. Also to be covered are neurological diseases from lab to clinic, including Multiple Sclerosis, Parkinson's, Alzheimer's, ALS, Huntington's disease, Epilepsy, traumatic brain and spinal cord injury, and neuropsychiatric disorders.
In addition to topics on diseases, the conference will cover emerging therapies, such as immunomodulation, non-coding RNA, stem cells, neurorobotics, neuroengineering, combinatorial therapies, myelin repair, and imaging technologies – in vitro and in vivo. Methods of identifying and treating neurological diseases – such as diagnostic tests, tools that detect therapeutic responses, and biomarkers – will be discussed in Emerging Therapies, Technologies and Methods.
Featured speakers include:
Thomas R. Insel, MD: Director, National Institute of Mental Health (NIMH)
Anthony Grace, PhD: Distinguished Professor of Neuroscience, Professor of Psychiatry and Psychology Department of Neuroscience, University of Pittsburgh
Story Landis, PhD: Director, National Institute for Neurological Disorders and Stroke (NINDS)
Rafael Yuste, MD, PhD: NIH Director's Pioneer Awardee, Professor of Biological Sciences and Neuroscience, Columbia University, Co-director of the Kavli Foundations Institute for Neural Circuitry
Terrence J Sejnowski, PhD: Distinguished Professor of Neurobiology at UCSD, Salk Institute Investigator, Howard Hughes Medical Institute
William Newsome, PhD: Director of Stanford Neurosciences Institute, Harman Family Provostial Professor, and Professor of Neurobiology and, by courtesy, of Psychology, Stanford School of Medicine
Ralph-Axel Mueller, PhD: Professor, Director of the Brain Development Imaging Lab Professor of Psychology, Department of Psy, San Diego State University
Michael Weiner, MD: Principle Investigator of the Alzheimer's Disease, Neuroimaging Initiative, Professor in Residence, Medicine, Psychiatry, and Neurology, University of California, San Francisco
Justin Sanchez, PhD: Program Manager of the Defense Sciences Office, DARPA
Clifford Jack Jr., MD: Alexander Family Professor of Alzheimer's Disease Research, Professor of Radiology, Neuradiologist, Mayo Clinic College of Medicine
View a full list of distinguished speakers here.
BioConference Live makes it more cost-effective and easier for the neuroscience community to connect and learn about science current events as well as new concepts, techniques, and tools they can apply to diagnosis and medical research. Starting in the BioConference Live Lobby, which is the central navigation point for conference content, attendees will be able to have questions answered by industry experts in real-time during keynote sessions , instant message and video chat with peers and conference speakers, and virtually browse an exhibit hall with virtual booths that include video, documents, and chat. Neuroscience sponsors to visit include Leica, Beckman Coulter, Carl Zeiss, Olympus and Charles River.
"The virtual Neuroscience conference is taking on a challenge to present a big picture of a very broad and diverse field of neuroscience from basic research to clinic. The intense two-day program will encompass teaching presentations, original research data, broad overview of new frontiers given by thought leaders in the field and discussion forums," Tatjana Matejic, Ph.D., D(ABMLI), the Committee Chair for BioConference Live Neuroscience said.
About BioConference Live:
BioConference Live is the largest producer of online conferences focusing on life sciences, clinical diagnostics, and laboratory animal sciences. BioConference Live is produced by LabRoots and gathers research scientists, clinicians, veterinarians, medical experts, and professionals over the world for online-only conferences. For more information, visit http://www.bioconferencelive.com.