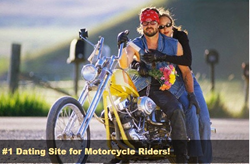 Los Angeles, CA (PRWEB) March 14, 2014
The world's leading dating site for motorcycle enthusiasts, BikerKiss.com, has released the results of a survey it presented to its members recently. Most bikers enjoy traveling, so the popular biker dating site surveyed some of its members to ascertain what the travel habits were among many of its members.
A total of 1,500 BikerKiss.com members responded to the travel survey and the results were quite surprising. A total of 59 percent of the members surveyed revealed they travel every week; their traveling consists of either going on a road trip or motoring across the state, mostly to get away from the normal, tedious daily routines of their lives. Another 27 percent of respondents indicated they travel about two or three times per month. Another 14 percent said they usually travel on their bikes once a month; some months they don't get on the bike at all. Many of the members in the last category said they are just too busy to have time to hit the road.
BikerKiss.com was also curious as to how many of its members have traveled on the iconic Route 66, also known as "The Mother Road." Route 66 runs from Chicago, IL through MO, OK, TX, NM, AZ and ends up in Santa Monica, CA for a total of 2,451 miles. It was a major path for people who migrated to the west in the 20s and was a popular road, noted for its beautiful scenery, eateries, motels and ability to get the traveler across the country quickly up until the mid-1980s, when larger interstate highways took its place. Some of the original highway is still available to travelers and BikerKiss asked its members who has had the opportunity to travel on Route 66. Most bikers who responded to the survey indicated they have ridden along some section of the iconic highway. Some of the members mentioned that since it's not a single highway and no longer federally designated, they needed to drive along the freeways in some areas, reducing the fun of riding on the old Route 66 in some cases. Other bikers mentioned that the only significant section of the old US-66 right-of-way that is still reminiscent of the original "Mother Road" is the stretch of AZ-66 that is found west of Flagstaff, AZ. The rest of the highway just isn't what it used to be. Although there are a few iconic sites still standing along the road, those tourist spots are few and far between now. Other members said they don't ride on Route 66 for the views, since they are often lacking. They also don't ride on it for aesthetics, which are a mixed bag, or for its contemporary relevance; they ride it for its historic value. The other 27 percent of the bikers on the popular biker dating site said they have never had the opportunity to travel on Route 66. "I live real far from that," said Joe Yang, who lived his entire life in sunny Florida.
About BikerKiss: BikerKiss.com is world's first, largest and most effective biker dating site for biker singles who are looking to meet other biker friends in the world. This is a best place for bikers and friends to get to know each other, establish relationship and talk about their interests, or to help each other.