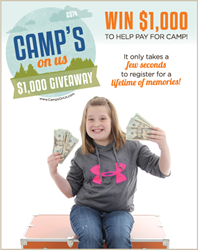 Signing up for our Camp's On Us Contest gives you a shot at winning $1000.
Boyd, WI (PRWEB) March 12, 2014
Summer camp gives children the experience of a lifetime. Camp sharpens children's social skills, helps them build independence, and expands their horizons. Camp is a great place for kids to meet new people, challenge themselves, and discover new things about themselves. And it's a lot of fun too.
Most experienced campers will say that the impact summer camp has had on them is priceless.
Most parents who have sent their children to camp will say that while camp is well worth it, it does come with a price.
Everything Summer Camp believes that the camp experience is worth every penny and wants to make paying for camp a little easier for three lucky families this summer.
"Signing up for our Camp's On Us Contest gives you a shot at winning $1000 that goes toward camp!" says Mark Sieglaff, Vice President of Everything Summer Camp, an online summer camp retailer. "You can put the $1000 prize toward camp fees owed or be reimbursed for fees that you've already paid."
Simply visit the sign up page at CampsOnUs.com, take a few seconds to sign up, and receive an entry into the sweepstakes. There is no purchase necessary to sign up. If a purchase has been made, however, customers will be signed up automatically with 10 entries rather than just one.
There will be drawings once per month in April, May, and June, so there will be three lucky winners. Entries will remain for all three months or until being chosen as a winner. Customers that have won cannot win again.
Summer camps that would like to give their campers an opportunity to sign up and win can get graphics for Camp's On Us by visiting the webpage http://www.everythingsummercamp.com/camps-on-us-artwork.
About Everything Summer Camp
Everything Summer Camp has been helping kids get ready for summer camp since 1987. Their wide selection of camping gear includes camp trunks and other camping supplies. Top selling items include water bottles, cot-sized bedding, rain jackets, insect repellent, iron on labels, and more. Known for their customer service and fast shipping Everything Summer Camp is recommended by more camps than any other camp outfitter.
Visit http://www.EverythingSummerCamp.com to learn more about camp footlockers, name labels, duffel bags, and camping supplies.
It's a sad fact of life to face, but it's inevitable. The world is an expensive place. If it's not the prices of groceries in the checkout line, it's those rapidly climbing numbers while pumping gas. Maybe it's a shocking utility bill in the mail. Or maybe it's all of the above. In any case, there's no doubt about it—life is pricey.