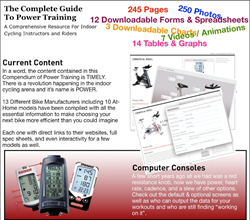 It actually crossed my mind when I was going through it how nice and easy goingthe tone was. Power can get pretty technical but for many people, including me, a good combination of technical and practicality is best and I think that's what it delivers.
Pittsburgh, PA (PRWEB) March 19, 2014
Author Gene Nacey reported today that he expects "The Complete Guide To Power Training For Indoor Cycling" to be ready for sale by the end of the month. Having four apps for Indoor Cycling already approved, Nacey is a viable source when it comes to cycling resources for Apple devices and Indoor Cycling. This will be the first iBook of its kind, providing details on power training for cyclists and the recent changes that have occurred in the equipment used by indoor cyclists every day.
He may not have set out to write the 'Bible for power training for cyclists', but the sheer volume of this book may end up getting him that as an unofficial subtitle. With over 245 pages, 250 photos, 14 tables, 16 graphs, seven video animations, and 15 downloadable charts and data forms, it may just be a worthy byline.
This may seem like an information overload, but this book will be a trusty reference manual used by cyclists for many years to come. It is unknown when a change of this magnitude will occur again within this very specialized niche of indoor cycling. Upon skimming the book for an overview one can see that a considerable amount of time has gone into the equipment; much of it newly introduced within the last couple of years. These facts make this book act as a comprehensive buying guide as well as a training resource.
Upon closer inspection, we can see this training focus permeate the chapter on power consoles as well. Nacey points out specific features in the consoles to look for in order to do better baseline and performance testing. This is the second major thrust of the book, and perhaps the most salient theme, that of the training and the science behind it. Nacey goes into detail on the physiological systems that are impacted by power, or that must be trained and activated in order to improve power. It's a proverbial theorem on how to understand, improve, and use power.
The book has another recurring theme, that of an urgency for equipping instructors with the understanding needed to begin and teach with power. As an active indoor cycling instructor himself, Nacey does not shy away from teaching with both heart rate and power, even if the students are not wearing heart monitors. "It's important to lead from behind when helping new people come up to speed, but I will always lead with heart rate and power when the training requires it. When my students see it's not complicated, they usually want to join in and eventually they secure their own heart monitor and begin to watch their power," said Nacey.
Gene Nacey's eBook is set to launch on March 31st, 2014, the iBook will likely be published within the same week.
About Cycling Fusion:
Cycling Fusion is a company dedicated to bringing the best of indoor and outdoor cycling together. On the national and international scene, we provide instructor certification, teaching tools, and streaming video classes led by internationally known master trainers and full blown cycling workshops delivered free with archived programs available for on-demand use. By promoting changes in the indoor cycling environment and teaching techniques, Cycling Fusion aims to bring more outdoor cyclists inside to train and more indoor cyclists outside to experience the joys of riding road or mountain bikes.