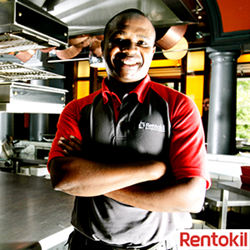 If administered incorrectly and if not carefully controlled, DIY pesticides can be hazardous to the health of humans. When selecting a pest control partner, it is important to choose a reputable, professional company.
Cape Town, South Africa (PRWEB UK) 14 March 2014
"Due to a multitude of factors including an increase of urbanisation in and around business and suburban areas, it is very rare for any home or work place to be 100% pest free these days," says Rentokil's Pietermaritzburg Branch Manager, Rajan Naidoo. Rodents, flies, crawling insects and even pest birds can put a family or colleagues' health at risk and cause damage to property, stock and belongings.
Although getting rid of pests may seem simple, you often need a pest control expert to tackle the problem effectively and safely. "While do-it-yourself pest control options may seem appealing, one must remember that if administered incorrectly pesticides can be hazardous to the health of humans, as they are designed to kill living organisms. It is therefore essential that the use of pesticides around people, especially small children, is carefully controlled. When selecting a pest control partner, consumers are urged to choose a reputable, professional pest control company," says Mario Pluke, Rentokil South Africa's Technical Manager.
Rentokil urges the public to ask the following questions when choosing a professional pest control partner:

How many years has the pest control company been in business?
How are employees trained?
Is the company registered with the South African Pest Control Association (SAPCA)
Are the pest control technicians who work for the company registered with the Department of Agriculture?
How does the Company keep its staff informed of changes in regulations, products, techniques and safety?
What is the company's attitude towards Health and Safety of both employees and customers?
Does the company adhere to the Department of Agriculture's approved product list?
Getting answers to all of the above questions will help a consumer ensure that they are using a reputable company who will take the necessary care and caution when dealing with potentially harmful pesticides on their premises.
Rentokil only makes use of pest control products that have been approved by the local Department of Agriculture and Rentokil's Global Technical Panel based in the United Kingdom. Getting to the root of the problem is what their technicians are trained to do. A proper pest management programme should take a preventative approach, rather than a reactive one.
Rentokil technicians are registered with the Department of Agriculture, and are provided with extensive and intensive technical training. They are skilled in using alternative techniques to control pests. "Our approach is to always restore the balance in the environment and use the quickest, most effective method to eliminate pest infestations," says Pluke.
For more information on Rentokil pest control, visit their website or contact them on 0800 736 865.