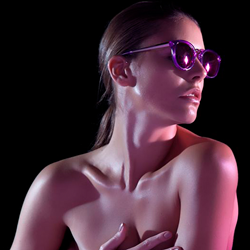 New York, NY (PRWEB) March 13, 2014
HAZE Collection is now available at two specially curated retail locations: Selima Optique (7 Bond St. New York, NY) and Catie Lo Shanghai (105 Wukang Rd, Xuhui, Shanghai).
Inspired by the harmonization of nature and architecture, HAZE Collection offers a distinctive mix of eclectic aesthetics and exceptional manufacturing quality. The premiere range consists of ten sun and eight optical styles, bridging the gap between modern takes on classic silhouettes like EDGE and entirely avant-garde forms like SHIELD. HAZE Collection brings together timeless yet progressive design with superior construction to pioneer a new era of lifestyle accessories.
Each pair of HAZE Collection frames is carefully hand-crafted with the utmost attention to detail using only the finest materials imported from Italy. Entering the Spring season, the striking color palette and unique pairings further set HAZE Collection apart. Thoughtful, ultra premium hues are combined with custom lens colors to yield eye-catching and timeless combinations. Currently comprised of a long list of enduring yet cutting edge shapes – Silhouettes like SHIELD, EDGE, TORK, REFLEX, or distinctly feminine models like SINJ – the 2014 collection is set to become a continuous source of inspiration and playful interpretation for HAZE Collection wearers.
Visit http://www.hazecollection.com for more information, to see the collection and order online.