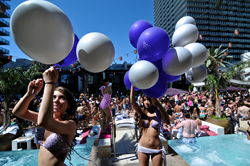 Las Vegas Party Season 2014 has started!
Las Vegas, NV (PRWEB UK) 14 March 2014
The Las Vegas Pool Party 2014 season kicked off this week and is set to be even bigger and more flamboyant than 2013. Fast becoming one of the biggest attractions that Las Vegas has to offer, these Pool Parties and Dayclubs hold up to 7,000 people coming from around the world to enjoy top Djs play Las Vegas Pool Parties and Nightclubs, food, drink and sunshine.
Entering its tenth successful year, the pool party concept has seen millions of dollars spent on expansions, upgrades and new venues during the winter closures.
Las Vegas VIP experts High Roller Suites have compiled a list of the top 10 Pool Parties for 2014 to help party animals through the maze and pick out the perfect party.
Before packing your bags, a few tips to help you get the most of your experience. Pool Parties are effectively Nightclubs during the day rather than standard hotel pools and you will need official ID showing that you are at least 21 years. Don't expect to do much poolside relaxing, this is an all-out party. There is no free or discounted entry for hotel guests and the dress code is fashionable swimwear, so more Bikinis and Bermudas rather than a shirt and tie.
The Top 10 Vegas Pool Parties of 2014
1. Wet Republic at MGM Grand
At a huge 53,000 sq. foot, the now infamous Wet Republic has propelled itself into first place with recent renovations and the introduction of new Bungalows giving the ultimate VIP experience. Packed full of beautiful people and celebrities every weekend, you may even spot the occasional Royal. The Prince Harry partying has firmly cemented that day at Wet Republic in the history books. The venue offers VIP services including Daybeds, Lounge tables, Dance deck tables, Deluxe Cabanas and Bungalows with Jacuzzis.
2. Marquee Day Club at The Cosmopolitan of Las Vegas
Since the "Cosmo" opened its doors in 2010, it quickly became the hip hotel on The Strip and this is largely thanks to the Marquee Dayclub and Nightclub. Marquee was one of the first uber-clubs in "New Vegas" and the Dayclub does not disappoint, offering a smaller and more intimate pool party. Expect to see some of the world's best DJs playing here with VIP services including Daybeds, Cabanas and Grand Cabanas with infinity Jacuzzi.
3. Ditch Fridays at Palms
The Palms hotel was once the only place to stay and be seen in Vegas before a plethora of newer hotels were constructed. Now Palms has undergone a massive renovation and is set to regain its former glory. Palms Pools and Bungalows host Ditch Fridays over the summer season and it will be the ultimate Friday hot spot with Luxury Cabanas and three bars to party with the ultra-cool crowd.
4. Encore Beach Club at Wynn
Upmarket yet still huge fun, Encore Beach Club offers a true club atmosphere year after year. You are guaranteed fun, partying with beautiful people and big gamblers alike. One lucky punter gave his hostess a $200,000 tip after buying $400,000 of Champagne! The most prized VIP spot are the Bungalows with private pool and the Lily pads which are reserved for all girl groups only and feature a dancing pole on the pool edge, central to all the action and for all to see.
5. Daylight Beach Club
The newest of the Vegas Pool Parties, purpose built Daylight Beach Club at Mandalay Bay was designed ground up to replicate the successful clubs of Ibiza with their huge stages and powerful sound systems. We expect Daylight to reach the top three in our list before the season is over and VIP offerings include Daybeds, Cabanas and for the ultimate VIP services there are two elevated Bungalows with private pools offering commanding views of the whole pool area, stage and DJ booth.
6. Rehab at The Hard Rock Hotel & Casino
The original Pool Party in Sin City, Rehab at the Hard Rock Hotel is still going strong and in 2014 it opens for the first time on Fridays and Saturdays where traditionally it has been a Sunday only party. The largest of the Vegas Pool Parties, you can find up to 7,000 guests at Rehab on a busy weekend and they opened the season with in style with Robin Thicke playing his number 1 hit. With a huge range of VIP options including Daybeds, Lower Cabanas, Upper Cabanas, Lazy River Cabanas, Nirvana Pool, North Beach, South Beach and more, you are sure to find the perfect spot to party.
7. Liquid at Aria
Aria is one of the newest 5* hotels on the strip and they have built the perfectly proportioned Liquid at Aria. Big enough to party, yet small enough to feel like you are King of the town. In 2013 Liquid hosted celebrities including Kelly Osbourne, Audrina Partridge and Carmen Electra. A 1,200 sq. foot central pool surrounded by Cabanas, Daybeds and a top notch restaurant ensure you a day to remember.
8. TAO Beach at Venetian and Palazzo
One of the longest standing pool parties, this is the ultimate Asian themed, ultra-cool venue with Balinese décor and renowned resident DJ's. TAO Beach Cabanas come complete with TV's, gaming consoles and pre-ordered mini bars stocked with the drinks you love. This is a top luxury party spot with glam guests, cool music and an ambiance found nowhere else in Vegas.
9. Sapphire Pool and Dayclub
Opened in 2013 and attached the world largest Gentleman's Club, Sapphire Pool and Dayclub Las Vegas surpassed all expectations and had an excellent first year. Expect to see strippers, Go-Go dancers, models, lots of beautiful ladies and handsome men around this small and well-appointed pool and Dayclub.
10. Bare Pool Lounge at Mirage
Offering European style topless bathing, Bare Las Vegas is the ultra-decadent place to be this summer. Bare is much smaller and less hectic than many of the major pool parties and is ideal for those who don't go in for the big and brash.
New Venues
Look out for Drai's Beach Club opening on Memorial Day Weekend 2014.
VIP packages are available from companies like High Roller Suites and they offer a range of great benefits on top of queue jumping and VIP reservations and services.