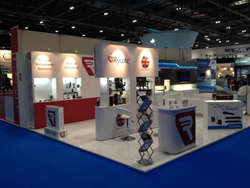 What our clients have to say about us is very important. Prospective clients will be able to receive a realistic image of us from these reviews.
Poole, Dorset (PRWEB UK) 12 March 2014
It is certainly reflected in the testimonials from their clients that Quadrant2Design are guaranteed to leave customers smiling. But what is it that makes these customers so positive about the company?
Exhibition Stand Supplier, Quadrant2Design, have launched a client reviews webpage. All reviews published are completely public and unedited. Quadrant2Design are suppliers of the Prestige Events System, which gives the company the unique ability to not only create custom designed exhibition displays but also provide stands with all the modular benefits.
Alan Jenkins, Managing Director at Quadrant2Design comments, "What our clients have to say about us is very important. Prospective clients will be able to receive a realistic image of us from these reviews."
A recent example is Quadrant2Design's happy client, AeroGlow Ltd, a UK based company specialising in survivability systems and flight safety. They have exhibited in Paris, UK and USA over the past couple of months – all with the stand Quadtant2Design designed and built for them.
Chloe Anderton, Design Director at Quadrant2Design says: "It is always great when we make a display that is used and re-used as it reinforces our promise of sustainability and reconfiguration. Here at Quadrant2Design, what exhibitors get for their money is not just 'one' stand. The Prestige System is different to custom build alternatives; it can be reconfigured and reused to save money."
Quadrant2Design also ensure that the design is exactly how the customer imagined it by inviting them to visit their Showroom and production facilities. They offer a 'Pre-Build' service, this means that every exhibition stand designed, created and manufactured by the company, is fully built in their Poole premises before installation. This gives the customer the chance to make any amendments as well as giving them the assurance that everything works faultlessly.
The combination of design and durability certainly left clients AreoGlow being yet another happy customer of Quadrant2Design.
Keith White of AeroGlow Ltd said: "AeroGlow investigated stand options in some detail. Quadrant2Design was the most impressive and flexible designs. We are delighted with the final product and believe that it will enhance our show experience. I strongly recommend Quadrant2Design to anyone who wants a professional stand design service. The staff are very helpful and are always willing to go the extra mile to deliver your needs."
Quadrant2Design has proven to make exhibiting across the world so much easier for clients, as they did with AeroGlow. One of the reasons for this is evident in the simplicity of building and dismantling the structure.
Alan Jenkins, explains: "The Prestige System is easy to build and dismantle, whereas most custom build stands take the best part of a day to take apart. Within three hours max, our Prestige system will be fully dismantled and in the back of the car."
This is brilliant news for exhibitors who wish to use their display more than once, not to mention travelling with the kit. An average exhibition stand can even fit in the back of a saloon which saves expense on hire vans.
Clients, Rycote, have been using their stand designed by Quadrant2Design for the past year, exhibiting at different events. Marketing and Communications Manager, Elena Bostan states: "I really like the stand and has made my life so easy over the past year. An absolutely great product."
For those planning to exhibit on more than one occasion, looking to save money and have a stand that combines a custom design with a modular system, Quadrant2Design really does tick all of the boxes.
If you would like to find out more about Quadrant2Design, visit: http://www.prestige-system.com. Email enquiries can be sent to designteam(at)quadrant2design(dot)com. All design ideas and proposals are free of charge and obligation.