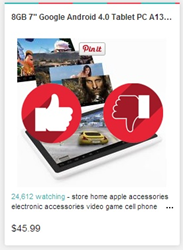 (PRWEB) March 14, 2014
oShopy.com is an innovative social ecommerce website that allows users to discover the best deals available from the biggest marketplaces in a single click. Users can review and give a positive review for their preferred products, but can give a negative review also, actively influencing other users' choices.
It is an amazing social commerce website because everyone can "promote" or "kill" the items displayed by improving their ranking, and influencing other users by posting their opinions about the offers selected. It is completely free, no registration is required, and everyone can take part in it and share their preferences.
oShopy.com is also a very useful tool for every person who wants to buy products online: great deals available online are shown on a single web page, minimizing the time requested for consulting sellers' websites and other online marketplace websites. The products are displayed with their own images, making it easy to identify the item that a user is searching for.
Thanks to its social commerce features, the purchasers can easily discover the main advantages and negative features of each item, and what the best online offers are based on other users' opinions.
oShopy.com combines the distinctive elements of social commerce and visual comparison websites to create a community of users who share their recommendations and preferences and, at the same time, offer a new way of shopping online, making it easy and convenient to identify the best deals. In fact, thanks to the images, the lists influenced by users, the reviews, and the search tools of the website, users are able to easily identify the offers that satisfy their requirements. In addition, if a user is interested in purchasing a product displayed on oShopy, he/she can reach the seller's web page simply by clicking on the desired offer.
Almost every product is available on oShopy: books, glasses, pottery, toys, furniture, clothes, collectible items, pet supplies, beauty products, video games, memorabilia, technological items, movies, travel packages, musical instruments, coupons, crafts, products for home and garden, and even houses and real estate. Items can be easily found through the vertical menu on the left side of the website and the search tool located on the top right.
oShopy.com also has specific Facebook fan Pages for Art and Paint, Antique items, Electronics, and Collectibles, where the best deals available on the website are published every day. Try oShopy.com today.