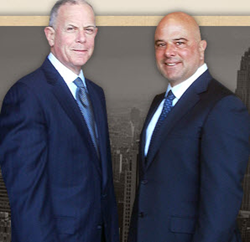 Our firm is proud of the outcome and hopes the Church continues to thrive
New York, NY (PRWEB) March 13, 2014
The New York real estate law firm of Rubin & Licatesi enforced the rights of the Church and received an Order from the Supreme Court in favor of The Christian Holiness Ministries, helping to save the pastor's church building from being partitioned by another interested party.
According to the case of Burchell Gordon v. Aubrey Greenidge, [New York Supreme Court, Queens County; Index no: 4130/13], in 1999, Burchell and Greenidge agreed to purchase the subject property to use as the Christian Holiness Ministries, Inc.'s premises on 111-07 Jamaica Ave, Queens, NY. They agreed that they would maintain title in their individual names as trustees and/or constructive trustees for the Church. As "tenants in common" with the defendant Greenidge, Gordon sought to partition the building, but Greenidge filed a counterclaim which indicated the plaintiff did not have the right to do so.
The plaintiff failed to serve a reply to the counterclaim, thus Greenidge sought a summary judgment or default judgment on the first counterclaim, an order seeking enforcement of the Nassau County order by the Queens County Sheriff and an order dismissing the plaintiff's complaint. Greenidge's stance was that Gordon should have no real interest in the property and only hold the property in a constructive trust.
"We are honored to stand up for someone who really deserves it," said firm partner Richard Harris Rubin. "Our firm is proud of the outcome and hopes the Church continues to thrive."
About Rubin & Licatesi, P.C.
The attorneys at Rubin & Licatesi, P.C., are specialized with a focus in two distinct areas: personal injury and real estate. The personal injury division handles automobile accidents, construction cases, slip and fall accidents, catastrophic injuries resulting from someone's negligence, as well as products liability.
The firm's real estate attorneys handle cases involving residential and commercial real estate contracts & closings, civil lawsuits with a focus on real estate related disputes, defense of residential and commercial mortgage foreclosure actions and loan modifications.
With their home office centrally located in Garden City, New York, the firm's attorneys are able to easily serve clients' legal needs throughout Nassau and Suffolk counties in Long Island, as well as in all of the five boroughs of New York City and the surrounding counties from Rockland to Westchester.
For more information about the firm, contact Rubin & Licatesi at 516-204-7715 or visit their website.