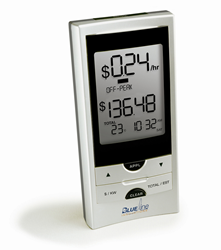 The in-home display makes it easy for our customers to manage and track their electricity use, while providing innovative ways to reduce their energy usage
Windsor, Ontario (PRWEB) March 18, 2014
Blue Line Innovations Inc., a leader in home energy monitoring solutions, today announced how EnWin Utilities customers receive Blue Line's in-home energy display for free, when signing up for Ontario's saveONenergy peaksaver PLUS® program. Blue Line's flagship product, PowerCost Monitor™ is a home energy display that is installed in over 160,000 Ontario homes, and lets customers monitor energy usage for general home use, and also for a particular appliance at any given time.
"The in-home display makes it easy for our customers to manage and track their electricity use, while providing innovative ways to reduce their energy usage," said Lawrence Musyj, Director of Conservation and Energy Management at EnWin Utilities Ltd. "We are pleased to offer a FREE programmable thermostat and in-home display to customers, when they sign up for peaksaver PLUS by calling 519-739-1750."
"Our products help people save money on their electric bill by enabling homeowners to easily eliminate waste, and for the first time can show the amount of energy consumed, when you think everything is turned off," said Peter Porteous, CEO of Blue Line Innovations, Inc. "In addition, Blue Line shows consumers how even small changes in electricity usage can save a significant amount of money."
"Real-time energy monitors have proven to heighten awareness and actions towards energy use and conservation measures, "said Dean Mountain of Mountain and Economic Consulting and Associates. "Based on results from the 2011, Alberta Real-Time Electricity Consumption Monitoring Study, there has been an average 9.7 percent reduction in energy usage due to use of Blue Line's home energy PowerCost Monitor. The savings rate jumps even higher when using electric heat or electric hot water ─ 14% and 17% respectively."
Key Capabilities of In-Home Energy Display

Overall increased awareness of energy consumption
Alerts you when consuming expensive energy at peak times, so you can adjust activity to reduce costs
Provides instant feedback on changes to electricity usage, so you can immediately see cost-savings
Displays electricity used by key appliance and how minor adjustments can lead to savings
Eliminates hidden electricity waste through real-time display of power consumption – see how much is being used when you believe the home is "turned off"
Estimating feature provides feedback on the impact of changes and uses recent trends to provide a next 30-day usage projection.
About Blue Line Innovations
Blue Line is a leading provider of energy monitoring solutions for home owners and small businesses. Blue Line's Power Cost Monitor lets customers manage their energy usage to reduce costs, and help the environment. The Power Cost Monitor is a free energy display that customers receive when signing up with Ontario's saveONenergy, peaksaver PLUS program. Using the Power Cost Monitor, customers can instantly see their energy consumption and cost for general home use, and also for a particular appliance at any given time. Consumers can then easily make small adjustments to eliminate waste and reduce costs. Simple adjustments, such as being aware of on-peak/off -peak times, go a long way towards lower energy bills. For further information, please visit http://www.bluelineinnovations.com.
For further information:
David Finkelstein
(416) 300-4150
news(at)summerhill(dot)com
Lawrence Musyj
Director of Conservation and Demand Management
ENWIN Utilities Ltd.
(519) 255-7300 ext 330
lmusyj(at)enwin(dot)com