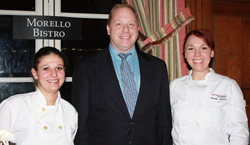 Greenwich, C.T. & Rye, N.Y. (PRWEB) March 12, 2014
Morello Italian Bistro – along with more than 50 other top restaurants, chefs and beverage distributors from the Greenwich region – put its culinary skills to work for charity on Friday, March 7 at the Westchester Country Club in Rye for the annual "Great Chefs" event. The gala is one of Greenwich Hospital's three major annual fundraisers, and benefits the nonprofit's cancer, pediatrics, intensive care and emergency programs, among others.
Morello's team of talented chefs and restaurateurs has participated in the Great Chef series since 2008. This past Friday, General Manager Jimmy Branigan and chefs Amanda Atkinson and Lyubomira Kyurkchieva created a mouthwatering yogurt panna cotta with fresh citrus, pomegranate, tarragon and semolina crumble to support Greenwich Hospital. Also on Morello's menu was bomboloni with vanilla sugar and dark chocolate sauce. Hundreds of supporters gathered to sample the culinary creations and support the hospital.
"It's a privilege to give back to the Greenwich community and support Greenwich Hospital," Branigan said. "The town has a reputation for being incredibly philanthropic, and we're thrilled to be a part of that tradition."
About Morello:
Morello Italian Bistro is located at 253 Greenwich Avenue, in the heart of Greenwich, CT, open seven days a week, serving lunch, brunch and dinner. Morello offers guests a menu of exceptional rustic Italian cuisine with a modern twist, incorporating local ingredients whenever possible. Seasonal cocktails and an extensive wine list are created by wine and beverage connoisseur Olivier Flosse, Wine Director for MARC US. Located in a historical landmark building designed by Rafael Guastavino Jr., featuring stunning tiled arches and vaulted ceilings with dramatic skylights, Morello is the perfect setting for intimate dinners, private parties and corporate events. Reservations are accepted and can be made by calling (203) 661-3443. For additional information, please visit http://www.morellobistro.com, "Like" Morello on Facebook and follow on Twitter @MorelloBistro.
About MARC Ltd.:
Under the direction of Chairman Marlon Abela, MARC (Marlon Abela Restaurant Corporation) offers an international collection of restaurants and enterprises that realize a sense of discovery and passion. The diverse portfolio includes eight restaurants throughout London and the east coast of the United States. MARC is renowned for delivering food excellence by providing cutting-edge cuisine that is united by a consistent commitment to quality food and impeccable service, in exceptional surroundings.
Internationally, MARC is a unique restaurant group in terms of the variety it offers, specializing in an array of different cuisines, including French, Italian and Japanese. MARC differentiates itself further by implementing an impressive wine program across the group, and has achieved Wine Spectator's Grand Award in USA and UK-based restaurants, an accolade no other independent restaurant group has accomplished.