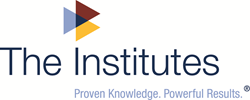 The coursework was updated in 2013 to include more global, application-based examples and to emphasize risk oversight and internal control.
Malvern, Pa. (PRWEB) March 12, 2014
The Institutes, the leader in risk management and property-casualty insurance knowledge solutions, are pleased to announce that they have been selected as a 2014 Business Insurance Innovation Award recipient. The Institutes were honored for their Enterprise Risk Management (1st ed.) textbook, one of the innovative new products for risk managers to be recognized at the Risk Management Summit held March 12 in New York City.
The textbook is the primary course material for The Institutes' Associate in Risk Management—ERM, or ARM-E, designation program. It is one of the most comprehensive and up-to-date enterprise risk management (ERM) educational resources available today. The coursework was updated in 2013 to include more global, application-based examples and to emphasize risk oversight and internal control. The material was written primarily by Michael W. Elliott, CPCU, AIAF, MBA, senior director of knowledge resources at The Institutes, in collaboration with other risk experts and risk management associations.
Now in their fifth year, the Innovation Awards recognize leadership, inventiveness and ingenuity in products and services designed for professional risk managers. Each year, organizations submit their programs and products to be judged by a neutral panel consisting of active risk managers.
"It is an honor to be recognized and awarded for our ARM-E coursework," said Peter L. Miller, CPCU, president and chief executive officer of The Institutes. "This program allows insurance professionals to extend their knowledge of risk management beyond insurable risk, which can help them meet their clients' needs and advance their careers."
To learn more about The Institutes' ARM-E designation, visit http://www.theinstitutes.org/ARM-E.
###
About The Institutes
The Institutes are the leader in delivering proven knowledge solutions that drive powerful business results for the risk management and property-casualty insurance industry. The Institutes' knowledge solutions include the CPCU® designation program; associate designation programs in areas such as claims, risk management, underwriting and reinsurance; introductory and foundation programs; online courses; research; custom solutions; assessment tools; and continuing education (CE) courses for licensed insurance professionals and adjusters through their CEU.com business unit.
The Institutes are affiliated with the CPCU Society, a community of credentialed insurance professionals who promote excellence through their technical expertise and ethical behavior, and The Griffith Insurance Education Foundation, a not-for-profit educational organization that promotes the study and teaching of risk management and insurance.