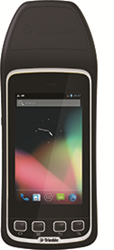 Harmony, PA (PRWEB) March 13, 2014
SDG Systems (SDG) announced today that the company is offering Android programming and consulting services for the Trimble Juno T41 with UHF RFID (T41R models). The services include software programming, consulting, or the development of complete turn-key Android applications. SDG Systems had previously announced programming and consulting services for other rugged, mobile, Android devices, including the Juno T41, ATID AT911 and Bluebird BIP-6000.
"When comparing the T41R to other Android-based RFID solutions, we can quickly see both hardware and software advantages," said Todd Blumer, President of SDG. "The T41R is an advanced, rugged one-piece hardware solution, providing ease of use, and device integrity against drops and weather events. On the software side, the developer libraries were specifically designed to use Android's advanced capabilities. Because SDG Systems is a software engineering provider to Trimble for Android, SDG Systems worked closely with the Trimble team in the T41R development. Our intimate knowledge of the platform makes us uniquely qualified to offer software development services for the Juno T41."
A key component of the Juno T41R platform is the software developer kit (SDK), which allows Android applications to access the T41R's full set of RFID capabilities. The SDK offers some important features. First, it provides full access to the hardware capabilities, including reading and writing tag information (IDs and data banks), adjusting power, providing optimizations for tag population sizes, and filtering tags. Second, it handles the more complicated low-level interactions with the reader such as duplicate detection, use of hardware triggers, and error recovery. These capabilities simplify the required application logic. Finally, the SDK provides a programming interface that was specifically designed for Android, which simplifies integration with Android applications. For example, the SDK uses intent-based notifications, which is similar to NFC.
The Trimble Juno T41R hardware supports a read-range over 3.5 meters for 5 cm2 (2") UHF tags in an unobstructed space. It is FCC, ACMA and ETSI certified. The T41R mobile reader supports the UHF frequency bands for worldwide regions. ETSI-certified T41R models for Europe will be available in April 2014. The integrated antenna has the ability to transmit up to +30 dBm (1 Watt) power for demanding applications.
SDG's programming services are designed for ISVs, solution providers, or customers who wish to develop RFID applications for T41R or who need to integrate T41R RFID as a data collection endpoint into existing solutions. SDG Systems is also a value-added distributor of all Trimble products and a preferred partner for Android solutions.
About SDG Systems
SDG Systems (SDG) delivers innovative, customizable, Android and Linux solutions, specializing in rugged and mobile computers. SDG provides superior technical support, software customizations, and complete solutions. SDG is a leader in the implementation of Google Android solutions on rugged and embedded devices since 2009 and has been developing and supporting Linux system software since 2001.