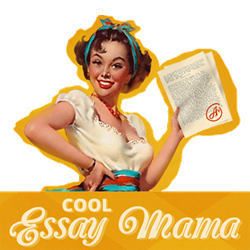 EssayMama - your essay is our baby
Los Angeles, CA (PRWEB) March 20, 2014
In a sea of companies offering essay writing services, it's often difficult for students to tell the difference from one service provider to the next. This makes it challenging for students to find an essay writing company they know is reputable and that will do a good job. Until now. EssayMama.com is bringing a fresh voice and attitude to the essay writing industry. Launched just this month, the new website features a different tone and a radical twist on essay writing services.
"When we conceived the idea for EssayMama.com, we wanted to be different. We've seen all the other essay writing companies out there, and frankly, they all seem the same. They all make the same promises, have the same pricing, and do the same quality of work, which honestly isn't that great," said a representative for EssayMama.com. "We wanted to bring a new twist on a popular service. We wanted to create a brand that students could really feel connected with…a brand they could trust."
When you visit EssayMama.com, the difference is immediately clear. You're greeted with a banner that features a retro-style advertisement that looks like it came straight from an episode of the hit series Mad Men. The copy also captures that unique voice, making it distinct from any other essay writing service out there.
"Our brand is something the average student can identify with. It's retro, but it's hip. It's cool, and it instills trust and confidence in our services," said the representative.
All branding aside, EssayMama.com really shines when it comes to its unique service offerings and pricing. While the company does offer essay writing help like many others, one of the things that sets EssayMama.com apart is that all of its essays are written from scratch, according to instructions from the customer. That means no pre-written essays and no plagiarized work.
"A lot of students don't realize that many essay writing companies actually sell old, pre-published essays. And guess what happens when a student turns in one of those essays? They get busted for plagiarism, and that can mean failing the entire class or even getting kicked out of school," said the representative. "At EssayMama.com, everything we write is 100% original and specifically for each customer. Every paper is guaranteed to pass a plagiarism scan."
To celebrate the launch of their website, EssayMama.com is offering 20% off to all new customers on their first order. Enter the code "MAMA20" at checkout. Additionally, the company offers unique pricing with multiple service level packages and discount programs to reward customers.
"We always take care of our customers. Each one is like a member of our family, and you'd never dream of charging your family an arm and a leg for something. That's why we are proud to offer very affordable and competitive rates on all of our essay writing services," said the representative. "We also offer a host of value added services for free, like a free outline, title page, bibliography, formatting, and unlimited amendments. That's a $65 value at no charge."
EssayMama.com says that the 20% off deal for first-time customers is "for a limited time only, so you need to act fast to take advantage of these even lower prices!"
For more information, visit http://www.EssayMama.com.
About EssayMama.com
EssayMama.com is a hot new essay writing service that's already generating a buzz with students across the country. The company offers a host of academic writing services to students at every grade level at prices that are shockingly good. Learn more at http://www.EssayMama.com.