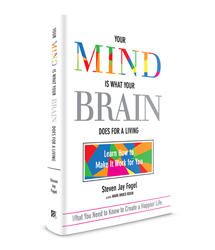 Los Angeles, CA (PRWEB) March 13, 2014
In his new book, "Your Mind Is What Your Brain Does for a Living: Learn How to Make It Work for You," (Greenleaf Book Group Press; March 14, 2014), author Steven Jay Fogel shares how (and why) anyone can rewire the brain to get "unstuck" in life.
"We all have a voice in our head that makes judgments and interpretations, which in turn dictate our actions and reactions," Fogel explains. "The trouble is, we're not consciously aware of why we're reacting the way we are because we're operating on automatic pilot."
This potentially self-sabotaging voice begins to form when we're very young, Fogel says. It's shaped, in part, by traumas – even minor ones – that influence how we perceive the world around us. It's what prompts us to stay in bad relationships, jump to self-destructive conclusions, and trap ourselves in unhappy situations.
"The good news is that research shows we can physically rewire the brain so that it functions in a healthier way," says Fogel, drawing from decades of neuroscience and mindfulness research. "You can learn to use your mind to transform your brain."
That automatic pilot voice's job, he says, is SURVIVAL, a part of which is to try to protect us from pain. That may be the pain of suffering a blow to our self-image, the pain of conflict that makes us uncomfortable, or the pain of being rejected. It's pain that stems from deep, old wounds, and it's pain we tend to deny.
"But often the machinery misinterprets a situation as being one of survival when it's not," Fogel says, "and in trying to protect us from pain, the automatic pilot voice often creates new pain."
Not only do we need to become aware of the programming dictating our actions, we need to "interrupt the machinery" so we can begin to rewire the brain, he says.
"That old programming will keep you in the past. In order to live in the present, you have to mindfully observe – without judgment – the facts of a situation and choose to respond without interpretations."
"Your Mind" is already winning rave reviews.
"Fogel provides a compelling 'playbook' on a way to achieve a full and rewarding life,'' writes Frank Mancuso, former chairman and CEO of Paramount Pictures and MGM Studios.
Writes Fred M. Sander, M.D., Associate Clinical Professor for psychiatry at Cornell Medical College:
"The beauty of this book resides in its comprehensive appreciation of how we can control the timeless unconscious patterns of our childhoods right up to how the current contributions of the neurosciences can help us live more peacefully in the present."
About Steven Jay Fogel
Steve Jay Fogel is a longtime student of human behavior and development; he has studied with psychologists, educators, and rabbinical scholars. "Your Mind Is What Your Brain Does for a Living," (Greenleaf Book Group Press; March 11, 2014), is his third book. He is also the author of "My Mind Is Not Always My Friend: A Guide for How to Not Get in Your Own Way" (Fresh River Press, 2010) and "The Yes-I-Can Guide to Mastering Real Estate" (Times Books-Random House). For decades he has been an active participant in the human potential movement, inspiring and mentoring others to seek their true selves. Fogel is a principal and co-founder of Westwood Financial Corp., one of the largest owner-operators of retail properties in the United States. He is a licensed real estate broker and past chairman of the California Arts Council. For more information visit http://StevenJayFogel.com.