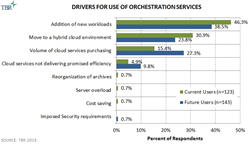 Hampton, NH (PRWEB) March 14, 2014
Technology Business Research Inc. (TBR) announced the results of its recent Cloud Orchestration Report, which details market opportunity, as well as the customer and competitive landscapes of the cloud orchestration market. The report surveyed 381 IT decision makers on their perception of cloud orchestration services, purchase history, intent to buy and budgeting, as well as perceived benefits and barriers to adoption. This research revealed that 70% of the total market either purchased cloud orchestration services or will buy in the foreseeable future.
"The proliferation of cloud 'as a Service' offerings, stretching from infrastructure and platforms to discrete workloads purchased on a subscription basis, is creating a growing demand for orchestration offerings, where vendors identify and provide cloud services that will work seamlessly for customers," said Ramunas Svarcas, a senior analyst at TBR directly involved with the TBR Cloud Customer Satisfaction Program. "While orchestration is not top of mind for many organizations at this point, it will gain popularity and account for a growing share of cloud-related expenditures over the next several years."
The current trend in cloud adoption is for solutions to be pieced together from different components and vendors, and an opportunity to manage the orchestration and implementation of these disparate pieces is rapidly evolving. System integrators that advised on the viability of cloud for enterprise customers are poised to reap the windfall of demand for orchestration platforms. The value of the Cloud Orchestration Report comes from the data gathered through TBR's unique business model analysis and customer-centric research focus.
Orchestration users indicate that addition of workloads and the push to hybrid clouds are the top triggers of cloud orchestration purchases. Notably, cost savings are not a trigger, but rather a benefit of purchasing orchestration services.
For more information about TBR's Cloud Orchestration Report, please contact Alison Crawford, senior marketing manager, at 603.758.1838 or alison.crawford(at)tbri(dot)com, or James McIlroy, vice president of sales, at 603.758.1813 or mcilroy(at)tbri(dot)com.
ABOUT TBR
Technology Business Research, Inc. is a leading independent technology market research and consulting firm specializing in the business and financial analyses of hardware, software, professional services, telecom and enterprise network vendors, and operators. Serving a global clientele, TBR provides timely and actionable market research and business intelligence in a format that is uniquely tailored to clients' needs. Our analysts are available to further address client-specific issues or information needs on an inquiry or proprietary consulting basis.
TBR has been empowering corporate decision makers since 1996. For more information, please visit http://www.tbri.com.