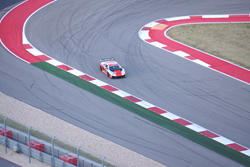 We couldn't have asked for a better season in 2013, and in 2014 we're looking to repeat the same feat. It's amazing to see how this series has developed since it launched and has become the perfect platform our driver development program.
Beverly Hills, Ca (PRWEB) March 12, 2014
Just three months after taking first at the Lamborghini World Finals in their debut attempt, O'Gara Motorsports will begin their Blancpain Super Trofeo North America title defense this weekend at the famed Sebring International Raceway.
Following the team's debut season, which began with double victories in their first event and culminating into a team and driver's championship by season's end, the entire O'Gara Motorsports and Lamborghini Beverly Hills squad made an instant name for themselves.
"What driver doesn't want to compete at Sebring," stated Tom O'Gara, owner of Lamborghini Beverly Hills and the 2013 driver's champion in the sportsman category. "We couldn't have asked for a better season in 2013, and in 2014 we're looking to repeat the same feat. It's amazing to see how this series has developed since it launched and has become the perfect platform our driver development program."
Competing alongside the TUDOR United SportsCar Championship, 2014 will see the series run under IMSA sanctioning allowing all Lamborghini drivers to visit the most storied circuits in North America during marque weekends. Running across the country at circuits such as Sebring International Raceway (Florida), Mazda Raceway Laguna Seca (California), Watkins Glen (New York) and more, the series is designed to allow less-experienced racers to engage in a truly professional environment yet with a balanced schedule catered to the busy professional. Racing on the same weekends as some of the biggest names in sportscar racing, the ethos of O'Gara Motorsports is to provide a development platform for those who've always wanted to experience racing at a truly top level.
Understanding the nature of the busy professional with special attention to cultivating those who are new to the sport, the O'Gara Motorsports development program is designed for those just getting started. As a vertically integrated program, aspiring drivers need to do no more than simply walk into the Lamborghini Beverly Hills dealership. With a range of experience from casual track days at the Palm Springs-based Thermal Club all the way to full-season racing programs in the Lamborghini Super Trofeo North America, O'Gara Motorsports is meant to appeal to the curious with a range of events that provide a safe, friendly, and non-intimidating environment.
Running in technical alliance with GMG Racing, a multi-time winner in the highly touted Pirelli World Challenge, participants in the program know that they have access to some of the most lucrative personnel and connections in the business with an aspirational platform that can go as far as The Rolex 24 at Daytona.
For this weekend's event, O'Gara Motorsports will bring three cars to the season debut.
Leading the squad will be series returnee and newly crowned World Champion, Andrew Palmer. At only 19-years old, the Chicago native had never driven a full racing car until his series debut in October where he promptly took pole position and victory in his first weekend. Invited to compete in the World Finals in Vallelunga, Italy in November, Andrew took a surprise victory quickly establishing himself as a force in the sport.
"I can't thank everyone at O'Gara Motorsports enough for this opportunity," stated Palmer, a student at Pomona College in California. "This time last year I was full tilt with school and continue to be, but things definitely changed after winning the world title last year. It's been a great program so far and I think our results speak for themselves."
Joining the team for his series debut will be Damon Ockey. While the BYU graduate will be taking his first racing laps in the Lamborghini Gallardo LP 570, Damon is no stranger to racing. A veteran of the Ferrari Challenge, a highly competitive series, Ockey is looking forward to the new challenge.
Rounding out the lineup will, of course, be Tom O'Gara. Having zero racing experience until last year, the California native quickly acclimated to the sport culminating in a sportsman category championship in his first attempt.
With the first of two races taking place this Thursday, March 13, the team is already hard at work in preparation for the event. Race one will take place on Thursday followed by the second race on Friday. This is all in support of one of North America's most historic races, the 12 Hours of Sebring that will take place at the same circuit on Saturday.
O'Gara Motorsports will provide continued updates throughout the weekend.