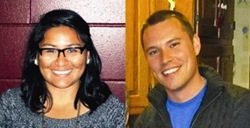 Columbus, OH (PRWEB) March 14, 2014
The Michael Sullivan Diversity Scholarship Fund committee has selected two winners for 2014. They are Calia A. Torres of the University of Alabama and Jeremy J. Eggleston of Fordham University.
The Michael Sullivan Diversity Scholarship Fund supports research, training and community projects in the area of diversity. Dr. Michael Sullivan served as the Assistant Executive Director for State Advocacy at the American Psychological Association (APA). The scholarship was created by the Ohio Psychological Association (OPA) in honor of his work with APA, state, provincial and territorial psychological associations, and his commitment to diversity and inclusion.
Calia Torres' research is focused on furthering the understanding of the pain experience and pain management strategies used by Hispanic patients with chronic pain, who are served at the Federally Qualified Health Center in Central Alabama. Her qualitative approach evaluates cultural influences to determine their relationship to pain management disparities among Hispanic patients and seeks to identify potential cultural determinants in the way Hispanics report and manage pain.
Torres received her Bachelor of Science in Psychology from the University of Florida and is currently a first year PhD student in clinical health psychology at The University of Alabama.
"I am honored to be a recipient of this award, I am also grateful for giving me the opportunity to continue researching an important cause that will better the care of minority patients," said Torres.
Jeremy Eggleston's research examines the concept of posttraumatic growth following diagnosis of HIV/AIDS in minority-identified populations, often facing double stigmas of both ethnic minority status and sexual orientation. These stigmas often create impediments to accessing medical and mental health care. This research will examine the factors that work to promote a personal growth model of adjustment amidst chronic and pervasive levels of social-cultural stigma and shame.
Eggleston said he is especially humbled to receive the Michael Sullivan Diversity scholarship, "This award inspires me to strengthen my commitment to clinical work with underserved populations especially at a time when public health grants for populations affected by HIV/AIDS have dwindled."
Eggleston received his Bachelor of Arts in psychology and religion from Syracuse University before obtaining a Masters degree at Union Theological Seminary in the City of New York. Jeremy is entering his final year in the Clinical Psychology Program at Fordham University. He will be completing his predoctoral Clinical Psychology Internship this coming year at NYU-Bellevue Hospital where he will conduct clinical work within their esteemed 'Survivors of Torture' program. He looks forward to a rewarding career in both research and therapy with LGBT-identified individuals.
This year there were 30 applications for the Michael Sullivan Diversity Scholarship. Submissions were of extremely high quality. Applicants were from: Pacific University, Stony Brook University, University of Florida, University of California-Santa Barbara, Suffolk University, University of Guelph, University of California-San Diego, University of Missouri, Adler School of Professional Psychology, Columbia University, Kent State University, Rutgers University, Miami University, University of Maryland, George Fox University, California School of Professional Psychology, Virginia Commonwealth University, University of California-Irvine, University of Cincinnati, Walden University, University of Akron, Emory University and John Jay College of Criminal Justice-CUNY.
This is the seventh year for the Michael Sullivan Diversity Scholarship. Past winners are:
2013-Jim Kim, University of California-Davis and David Lick, University of California-Los Angeles
2012-Marisa Franco and Anahi Collado-Rodriguez, University of Maryland
2011-Ana Fernandez, Long Island University/Brooklyn Campus
2010-Ariz Rojas, University of South Florida
2009- Sangetta Parikshak, University of Kansas
2008-Janelle Hines, University of Cincinnati
Additional information about the Michael Sullivan Diversity Scholarship is available on the OPA website. Call for applications for the 2015 Scholarships begin in the fall of 2014.
Located in Columbus, OH, the Ohio Psychological Association is a membership organization of approximately 1,600 Ohio psychologists. Its mission is to advance the creation, communication and application of psychological knowledge to benefit society and to improve people's lives in Ohio. For more information, or for a psychologist referral, visit http://www.ohpsych.org.