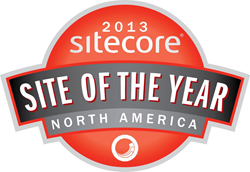 With dynamic personalization using Sitecore's DMS and our framework of healthcare-specific modules, the Providence project is a real testament to how visionary healthcare organizations can develop meaningful digital relationships. - Paul Griffiths, CEO
Cambridge, MA (PRWEB) March 13, 2014
MedTouch, the premiere integrator of Sitecore for healthcare, announced that in partnership with Providence Health & Services, it has won the Sitecore Site of the Year 2013 for best Healthcare and Medical Site (Tie). Now in its sixth year, Sitecore Site of the Year 2013 continues to recognize organizations who have developed the most outstanding websites using Sitecore; those that create amazing digital experiences for every customer that engages with their brand.
"We are pleased that our work ranked at the top of a very competitive field," said Paul Griffiths, Founding Partner & CEO of MedTouch. "This is the third time that MedTouch has won the Site of Year. Given our complete and total focus on healthcare, we have to select one of our many outstanding clients to submit for this award."
"With dynamic personalization using Sitecore's DMS and our framework of healthcare-specific modules, the Providence project is a real testament to how visionary healthcare organizations can develop meaningful digital relationships."
MedTouch continues to lead the way on integrating Sitecore for hospitals, health plans, and integrated delivery networks across the United States. By leveraging its own Accelerator Framework for Sitecore, MedTouch is able to reduce the implementation timeline of Sitecore while providing a number of critical features, such as Physician Directories, Healthcare Taxonomy, and Health Library integrations.
"At Sitecore, we recognize that the most successful sites and companies are those that delight their audiences, increase loyalty and drive revenue with relevant content and personalized digital experiences," said Bjarne Hansen, President, Sitecore USA. "MedTouch exemplifies a truly world-class approach to delivering customer experiences that engage, delight, inform and motivate."
Sitecore's experience platform combines web content management, marketing automation, email marketing, social media, e-commerce, optimization, and analytics into a single, unified platform. The platform is incredibly easy to use, capturing every minute interaction – and intention – that customers and prospects have with a brand, both on a website and across other digital channels.
About MedTouch:
MedTouch is proud to be the online strategy and technology partner for the best brands in healthcare. With a national client base of hospitals, health plans and integrated delivery networks, MedTouch builds solutions to acquire patients and members, provide successful user experiences, build healthcare-specific online strategies, and leverage dynamic, real-time and responsive personalization on Sitecore. MedTouch has expanded to multiple locations across the U.S. and was named to the Inc. 500 | 5000 in 2013, an annual list of the fastest growing private companies.
About Sitecore:
Sitecore is the global leader in customer experience management software. The company delivers highly relevant content and personalized digital experiences that delight audiences, build loyalty and drive revenue. With Sitecore's experience platform, marketers can own the experience of every customer that engages with their brand, across every channel. More than 3,500 of the world's leading brands – including American Express, Carnival Cruise Lines, easyJet, and Heineken – trust Sitecore to help them deliver the meaningful interactions that win customers for life.