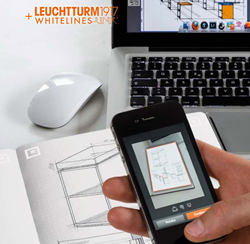 ...a milestone in the relationship between traditional stationery and the digital age...
London, UK (PRWEB UK) 13 March 2014
Bureau Direct are pleased to now launch the new Leuchtturm Link notebook, a significant milestone in the relationship between traditional stationery and the digital age. The notebook is a fascinating brand tie-up between respected German notebook manufacturer Leuchtturm1917, and innovative Swedish stationery company Whitelines. The result is a notebook that can seamlessly be uploaded online or emailed with the use of a dedicated smartphone app, allowing ideas and notes to be stored and shared.
The idea is a simple one, with formatted paper that allows for a smartphone app to scan and perfectly align the page. Annotation marks allow for you to specify which online storage service you want to use – Dropbox, Evernote or email. The benefit of such a link between physical notebook and online storage is that it enables you to securely store essential notes, memos, drawings and ideas, leaving them accessible to you at a later date and on other devices. It also has huge benefits when it comes to collaborative work, enabling the sharing of ideas and work across people in different locations and devices.
Whitelines are an innovative Swedish company that developed the idea of reversing the way paper is printed by using white lines on a grey background. The beauty of this is that not only are there no darker lines to get in the way of your writings, the page will also scan or photocopy as white not grey. Whitelines then went further and developed the idea behind the link technology with the associated phone app.
Leuchtturm1917 are a traditional German stationery company that has recently become the main competitor to the dominance of the Moleskine brand. Leuchtturm notebooks are well known for the nature of the paper and overall quality of the books. When a tie-up was announced last year between Whitelines and Leuchtturm it made complete sense as it brought the innovative paper and app inside the best notebook on the market.