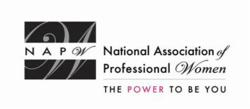 I applaud all of our NAPW members as we shout louder together, stand stronger together and Go Red For Women together.
Garden City, NY (PRWEB) March 13, 2014
Here's to a healthy heart! Thousands of members and guests from NAPW Local Chapters kept the beat when they gathered at professional networking meetings across the country in February to recognize American Heart Month and one of NAPW Foundation's philanthropic partners, the American Heart Association's Go Red For Women campaign. Many Local Chapters hosted events, where groups of professional women proudly wore red as they listened to guest speakers, networked with one another and continued to empower themselves by taking charge of their professional and personal lives.
NAPW members were also abuzz about the upcoming NAPW 2014 National Networking Conference: Aspire. Connect. Achieve. on April 25, 2014 at the Marriot Marquis in NYC's Times Square. It is anticipated that 1500 professional women from around the country will attend this year's premier networking event where Keynote Speaker Barbara Corcoran and Robin Roberts, recipient of this year's first-ever NAPW Icon Award, along with other high-profile panelists, will join Host Star Jones, NAPW Spokesperson and Chief Development Officer.
Ms. Jones, also serving as the National Volunteer for the American Heart Association, applauds the selfless actions of so many of the Local Chapters who continuously give back to their communities and who have joined her in the fight against the number one killer of women, heart disease.
"The continued generosity to charitable organizations and the philanthropic spirits, dedication and tireless determination of our members to make a difference in their communities and the world makes me proud to be on Team NAPW! I applaud all of our NAPW members as we shout louder together, stand stronger together and Go Red For Women together," says Ms. Jones.
Last month, Local Chapters from the east coast to the west coast, such as those in Alexandria, VA; Augusta, GA; Bakersfield, CA; Collierville, TN; Columbia, MD; Hartford County, CT; Kansas City Metro, KS; Washington, DC; Omaha, NE; Orange County, CA; Orland Park, IL; Philadelphia, PA; St. Louis, MO; St. Petersburg, FL; Waldorf, MD and West Orange, NJ, heeded Ms. Jones' call to action to take charge of their health and their bodies.
Whether listening to guest speakers, including those from the American Heart Association, participating in fitness events such as yoga workshops and a Zumbathon or enjoying a heart-healthy cooking demonstration and meal, Local Chapter members and their guests armed themselves with the tools they need to stay heart healthy.
Chapter events such as those held in Akron, OH; Bowie, MD; El Paso, TX; Greensboro, NC; Jacksonville, FL; Lexington, KY; Long Beach, CA; Loudoun County, VA; Nassau County, NY; New River Valley, VA; San Mateo, CA; Scranton, PA; South Orange County, CA; Stafford, VA; The Woodlands, TX; Warwick, RI; Wichita, KS and Wilmington, NC focused on a number of other issues relevant to professional women. Members and guests received up-to-the minute tips and advice on everything from networking and mentoring to social media and technology to professional development and workplace etiquette.
Many of these NAPW Local Chapters participated and/or planned future involvement in a variety of local and national charities. Whether they were helping other professional women by supporting Dress For Success, another of NAPW Foundation's philanthropic partners, mentoring young girls in need or collecting for local food and clothing drives, NAPW members continued their efforts to make a difference in their communities and beyond.
"Last month at NAPW Local Chapter events in countless cities across the county, members came together to raise awareness about heart health, take advantage of the excellent networking opportunities NAPW membership offers and show support for one another and their communities!" said Louise Newsome, New York City Chapter President and NAPW National Director of Chapters.
The National Association of Professional Women (NAPW) is the largest and most recognized network of professional businesswomen. NAPW provides a forum where women can interact, exchange ideas, educate, network and empower. NAPW Local Chapters allow members to maximize their experience through meetings, networking opportunities and professional events.
For additional information regarding Local Chapters and/or NAPW, please visit http://www.napw.com.