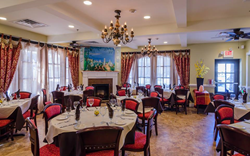 Red Bank, NJ (PRWEB) March 12, 2014
Proving that it is his special touch that has guests raving about the menu at San Remo in Red Bank, New Jersey, owner and chef, Giovanni A. Boudour never disappoints. Serving Northern and Southern Italian Cuisine, Boudour has been wowing customers with his cooking since he arrived to the United States from Bergamo, Italy in 1992. Since then, he has worked in kitchens throughout New York and New Jersey incorporating delicious Italian dishes with warm, elegant dining.
Before opening San Remo (named after a city located in north-western Italy), Boudour worked in several fine dining establishments in Manhattan. He opened up the first San Remo restaurant, in Shrewsbury, New Jersey in 1993 where he remained for 17 years. Looking for a larger space and to own his own building, Boudour moved the Jersey Shore favorite to Red Bank, New Jersey, where his dedicated customers continue to flock. "It was my dream all the time to have my own fine dining restaurant and show my talent," said Boudour. "People feel good about the new place. It was my gift to all my customers."
Bringing only the freshest, homemade ingredients to the table, the Moroccan native's love for traveling inspired many of his recipes. "My recipes come with my knowledge and experience," said Boudour. "My kitchen is always a creative kitchen with all new dishes. Each year I visit a different country and I like to try different food from everywhere." The chef also admitted that the restaurant industry is a very competitive business, especially with all the competition in the area. "There is very serious competition. You have to know what you are doing or you will be out," said Boudour. "My recipes, my cuisine, there is my touch. We all make Pasta Pomodoro like many restaurants, but who makes the good one; the one who is the most patient."
Described by Boudour as "elegant dining in a casual place," San Remo has the perfect small town feel including an outdoor patio and the option to bring your own beer and wine. "Small towns are better," said Boudour. "In Manhattan it's a lot of energy and most people live there so you are working really late. In a small town by ten o'clock you close up and you're done." This is a benefit for the staff who have time to relax and recuperate after their shifts. "We are only open for dinner. When you get tired you start making mistakes. Changing the help all the time doesn't help any business to grow."
The relocation of San Remo allowed for more dining space accommodating about 66 patrons in the main dining room, and additional 30 seats on the outdoor patio. The upstairs is reserved for catering and private parties which can accommodate up to 64 guests. "When I opened San Remo in Red Bank I decided that was it," said Boudour. "It needed a lot of work and I'm getting older. When it's packed, everyone needs help even the dishwasher."
San Remo has received positive reviews from the Asbury Park Press, New York Times and Chef Boudour has been featured on News 12 New Jersey for his talent. Located on the west side next to the New Jersey Transit commuter train station, they are open every evening from 4:00 pm to 11:00 pm. A private room for catering is available for any occasion. Visit their website for more information and to view their full menu http://www.sanremoitaliana.com/index.php.
About Bielat Santore & Company
Bielat Santore & Company is an established commercial real estate firm. The company's expertise lies chiefly within the restaurant and hospitality industry, specializing in the sale of restaurants and other food and beverage real estate businesses. Since 1978, the principals of Bielat Santore & Company, Barry Bielat and Richard Santore, have sold more restaurants and similar type properties in New Jersey than any other real estate company. Furthermore, the firm has secured in excess of $500,000,000 in financing to facilitate these transactions. Visit the company's website, http://www.123bsc.com for the latest in new listings, property searches, available land, market data, financing trends, RSS feeds, press releases and more.