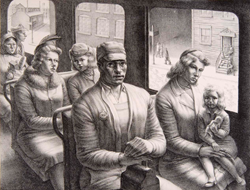 It's an important collection because there aren't any like it.
Benton Harbor, Michigan (PRWEB) March 26, 2014
""It's a premiere collection of African American art." Ara Lucia said. "Our museum is very proud to exhibit it on Slow Art Day."
Guests will have worksheets to journal their observances, and Ara Lucia will spark conversation between participants about their experiences.
"In my creativity coaching I work with artists to look inside and find their vision," she said. "As a facilitator, I'm working with others in the same way to find their experience of the work."
ABOUT ARA LUCIA
Creativity Coach Ara Lucia is the founder of SoulNavigation.org, a coaching practice that helps artists develop unique artistic vision and accelerate their career success.
SLOW ART DAY
Slow Art Day is the global all-volunteer event with a simple mission: help more people discover for themselves the joy of looking at and loving art.