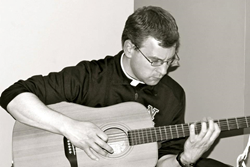 Anytime someone leaves their normal environment, it opens them up to a powerful experience.
Lincoln, NE (PRWEB) March 19, 2014
Fr. Ben Holdren knew he was in for plenty of surprises when he was appointed to be the associate pastor at St. Thomas Aquinas Catholic Church in Lincoln, Nebraska. He could have never guessed that seeing the pope would be one of them.
St. Thomas Aquinas serves as the Catholic Newman Center at the University of Nebraska. "Huskercatholics", as they're called, are Catholic college students who come each week to hear Fr. Holdren preach and celebrate Mass. Very few of them ever thought they'd be listening to him in Rome and Assisi. Yet, that's exactly where they'll hear him once they set foot on Italian soil on March 21, 2014.
"The thing I am most looking forward to seeing is the students reactions when they see how tangible our Catholic faith is," said the associate pastor.
Fr. Holdren will be joined by 47 students and staff as together they arrive in Rome for the first day of their pilgrimage before heading directly to Assisi and the Basilicas of St. Francis and St. Clare. St. Francis is the patron saint of Pope Francis who chose the name
Francis after being elected Pope one year ago.
During their 11-day pilgrimage, the Huskercatholic pilgrims will visit shrines and churches in Rome, Assisi, Orvieto and Siena. A highlight of their trip will be the Papal Audience when they will join thousands of other pilgrims to listen to Pope Francis speak and receive his blessing.
Another highlight for the group will be the architecture of the holy sites, said Fr. Holdren. He looks forward to showing the students the "amount of dedication people have poured into their love of our Lord through art and architecture."
When asked why he thought it was important to make a pilgrimage with the college students, he said, "Anytime someone leaves there normal environment, it opens them up to a powerful experience. In Italy, far away from the norm, as they have time to pray in front of these holy sites, my hope is that they will open themselves in new ways to an encounter with Jesus Christ."
If you are interested in joining a future pilgrimage to Italy or other Catholic pilgrimage sites, please contact Tekton Ministries at info@tektonministries.org or visit their webpage at http://www.tektonministries.org.