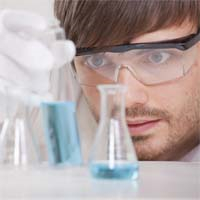 CFMs and/or their future analogs have potential as anti-Malignant Pleural Mesothelioma agents.
Raleigh, NC (PRWEB) March 18, 2014
Cancer Monthly is reporting on a newly-published study suggesting that compounds called CFMs might offer a better way to fight the treatment-resistant cancer, malignant pleural mesothelioma.
The study entitled "CARP-1 Functional Mimetics Are a Novel Class of Small Molecule Inhibitors of Malignant Pleural Mesothelioma Cells" was conducted by researchers at laboratories in Florida, Michigan, New York, and Saudi Arabia and published in the online open-access medical journal PLoS One.
The term mimetics refers to compounds that 'mimic' the activity of the original molecule. In this case, CFMs are designed to mimic the cancer-killing power of Cell Cycle and Regulatory Protein (CARP) 1, a regulatory protein that has been found to play an important role in the apoptosis (programmed death) of cancer cells. Previous cancer studies have found that, without sufficient amounts of CARP-1, cells may fail to die on schedule. (Rishi, A, et al, "Cell Cycle and Apoptosis-regulatory protein-1 is involved in apoptosis signaling by epidermal growth factor receptor", Feb. 2006, The Journal of Biological Chemistry, http://www.jbc.org/content/281/19/13188.abstract) Mesothelioma and other cancers grow when too many new cells are created while existing cells fail to enter apoptosis when they should.
In the new laboratory study, CFMs appeared to stimulate a complex cascade of cellular processes in the mesothelioma cells that resulted in apoptosis. In addition, by acting on certain key proteins, CFMs also blocked the ability of mesothelioma cells to migrate, invade through artificial membranes, and form colonies. In their report on the findings, the authors call this the "metastasis inhibit property" of CFMs and conclude that the compounds and/or their "future analogs" have potential as anti-mesothelioma agents.
Mesothelioma is a lung-related cancer for which few effective treatments are available. Because it is highly resistant to most conventional cancer therapies, scientists around the world are actively looking for new ways to combat it. The new CFM study was a collaboration between scientists at Wayne State University in Detroit, Florida A&M University in Tallahassee, the New York University Cancer Center, and King Saud University in Riyadh, Saudi Arabia. It was published on PLoS One. (Jamal, S, "CARP-1 Functional Mimetics are a Novel Class of Small Molecule Inhibitors of Malignant Pleural Mesothelioma Cells", March 5, 2014, PLoS One, http://www.plosone.org/article/info%3Adoi%2F10.1371%2Fjournal.pone.0089146)
For nearly ten years, Surviving Mesothelioma has brought readers the most important and ground-breaking news on the causes, diagnosis and treatment of mesothelioma. All Surviving Mesothelioma news is gathered and reported directly from the peer-reviewed medical literature. Written for patients and their loved ones, Surviving Mesothelioma news helps families make more informed decisions.