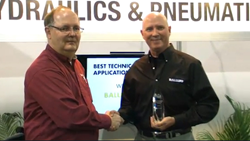 Florence, KY (PRWEB) March 13, 2014
Hydraulics & Pneumatics hosted its first Best of Industry Awards at the 2014 IFPE Show on March 5, 2014. H&P created these awards to help recognize those in the industry that have done a great job evolving to help provide engineers with the critical information they need. H&P asked their 20,000 subscribers to nominate their top choices for best website, social media, blog, online tools, videos, and more. Winners were based on the results from their open-form subscriber survey. Two runner-ups and one winner were selected for each of their nine categories.
Balluff won first place in the category of Best Technical/Application Videos. Runners-up in this category included Bosch Rexroth and the Center for Compact and Efficient Fluid Power.
Visit the Balluff YouTube page, and see why Balluff earned the award for best technical videos.
Click here for the full video of Hydraulics & Pneumatics Best of Industry Awards and here for more on the awards and winners.