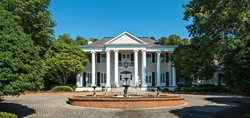 Scott Kirk, President of Interluxe, said, 'Online auctions are unquestionably the wave of the future for luxury properties and we couldn't be more excited to offer these two magnificent Carolina properties.'
Charlotte, NC (PRWEB) March 12, 2014
Interluxe proudly announces the upcoming sale of TWO extraordinary luxury Carolina properties in online auctions in April. The first offering is a 6-bedroom, 8-full bath, classic southern mansion in Greenwood, SC: a stately quiet home surrounded by 95 acres offering total privacy (with five acres professionally landscaped and the remainder wooded). It was built in 1990 by Uldrick Custom Builders. The home is being offered in cooperation with Susan Long of Susan Long Realty. "The sellers and I are impressed with Interluxe's intelligent marketing program and their ability to expose this southern estate to a large audience of buyers in a fresh and exciting way. We're confident that an auction is the best approach for our clients to sell their home quickly, efficiently, and for a fair market price," Stated Susan. Among this striking home's many features are a grand entrance foyer with circular staircase and skylight with crystal chandelier, guest apartment, private en-suite bath with each bedroom, magnificent master closet with separate his & her bathrooms, and private courtyard and lush gardens. Numerous photos and lots more details are available at: Greenwood Mansion.
Interluxe's other offering in April is an enchanting 4-bedroom, 3-full bath, single-family home in the Blowing Rock community of Mayview Park. The online auction is being presented by the seller in cooperation with Doug Pegram and Patti Turner of Village Real Estate. The main house features a wonderful combination of old Blowing Rock style with a complete interior renovation that includes a fabulous gourmet kitchen and new dramatic master suite. The lot is unusually large and secluded with fully mature landscaping featuring perennials, so it is delightful year round and maintenance is beyond easy. A substantial and private deck is perfect for entertaining friends and loved ones and allows the owners to enjoy Blowing Rock's fantastic summer weather. In addition, a two-bedroom apartment adjacent to the main house is useful for extended family or summer visitors and offers privacy and flexibility for the owners. This exceptional home truly embodies what has delighted and attracted families to Blowing Rock for generations. A furniture package is also available. Plenty of photos and many more details may be found here: Blowing Rock Estate Patti Turner of Village Real Estate said, "We are very excited about the potential that an Interluxe online auction offers our client. Auctions create opportunity; this one will help our listing get the level of attention it deserves and help our seller achieve the best price the market is willing to bear."
BOTH online auctions start on April 7th, 2014 at 11:00 A.M. Eastern. In-person previews of both properties are available during one of their pre-scheduled viewing times or by appointment. Call or click for the preview schedules of both homes or to obtain information about how to bid. Agents are fully encouraged to participate and cooperating broker commissions are offered.
Scott Kirk, Founder and President of Interluxe, said, "Online auctions are unquestionably the wave of the future for luxury properties and we couldn't be more excited to offer these two magnificent Carolina properties, especially as a follow up to the recent success we've had there. This is a great opportunity for any buyers who wish to bid their own price and get a great value on a truly magnificent property."
Interluxe is the premier platform for online luxury property auctions where motivated sellers, dedicated agents, and discerning buyers connect to do business on their own terms. The firm specializes in the auction of luxury properties worth $750,000 or more and also offers "a la carte" marketing: home sellers choose from multiple tiers of marketing services to ensure their property stands out to as many qualified buyers as possible. Every seller gets exclusive access to Interluxe's database of over 100,000 luxury homebuyers and over 1.5 million listing agents. The result is that agents and sellers get their individual marketing needs met through completely customized promotions. If you or someone you know can benefit from Interluxe's exclusive new platform, unmatched database, and first-class marketing and promotion, contact them at (888) 415-LUXE or http://www.Interluxe.com.