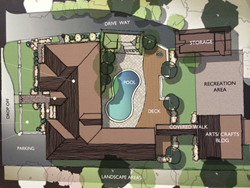 "I can hardly believe anyone would do all this for someone like me."
Roseville, CA (PRWEB) April 02, 2014
Borges Architectural Group is proud to participate in an epic community collaboration project for Tracey's Place of Hope in Loomis, a residential program for adolescent girls in crisis.
In 1999, Former Oakland Raiders Hall of Fame receiver, Fred Biletnikoff, and his wife, Angela, were devastated by the murder of their 20 year old daughter, Tracey. In an effort to keep her spirit and dream alive, they established the Tracey Biletnikoff Foundation (now the Biletnikoff Foundation) in 2000. The foundation exists to help young women who are recovering from substance and alcohol abuse and to provide education for the prevention of domestic violence.
Tracey's Place of Hope in Loomis, California was inspired by Tracey herself who had dreamed of such a place specifically for young girls dealing with addictions. The home is now becoming a reality through the Biletnikoff Foundation's partnership with Koinonia Homes for Teens, which owns and operates homes for teens, one specifically for adolescent girls ages 14-17 with mental health and substance abuse problems. Koinonia agreed to call this home "Tracey's Place of Hope" in honor of the Biletnikoff's daugher, and the beautiful partnership began.
Tracey's Place is already a place of hope and recovery, evident in the staff, the demeanor of the girls who are there even after just a short while, and the atmosphere one feels upon walking through the front door. Each of the 6 residents is placed on an individual program designed to treat the whole person and aid in the emotional and spiritual journey to recovery. Each girl is given the tools she needs to make better choices and to walk away from the experience with a new hope for the future. As soon as one graduates and moves on, another arrives.
Although Tracey's Place is more of a home than most of the girls have ever known, significant work needs to be done to improve its overall condition and functionality. It's an older place, and the floor plan isn't really conducive to a group living situation. Upon hearing of the need from their friends at Loder Construction, Borges was quick to step up and get involved drawing up the plans for the renovation.
But Loder and Borges aren't the only ones jumping on board. As the word of this project continues to spread, dozens of companies and individuals are stepping up to donate, volunteer, and make Tracey's dream come to life. The design team on the project to date includes Loder Construction, Borges Architectural Group, Air Systems, Bennett Engineering, Barnum & Celillo, Norm Scheel Structural Engineering, ASI Alarms, BSLACreations, and SMA-America. And this is just the design team.
The collaborative effort speaks volumes to the girls currently living in the home. When they were asked what they thought about the vision for the new Tracey's Place, one of the 16 year old residents said, "I can hardly believe anyone would do all this for someone like me."
According to Adam Lehner of Borges Architectural Group, "When first asked to do an exterior rendering for 'Tracey's Place of Hope,' it was an easy 'Yes!' It's a great way to give back to our community. But once we heard Tracey's story and met the girls in the house, it became personal, and we wanted to do more to help bring to life the vision of Fred and Angela Biletnikoff. In the spirit of Koinonia, we are using our design expertise to wage war on drug and alcohol abuse, sexual trafficking, gang violence, and despair. In the process, we are all being transformed."
Some of these girls have grown up with parents who have neglected them, others have been abused, or trafficked. Some have worked the streets, some have children they desperately would like to be reunited with, and others have simply been shuffled from foster home to foster home their entire lives. They're not used to these grand gestures of kindness. They're not used to people valuing them with the basic dignity due all human beings, so this very practical outpouring of community support is being received well by current residents and staff at the house.
As of now, nearly all of the design needs for the remodel have been met with an anticipation of ground breaking in mid-late May. There has been an incredible outpouring of support and donations from the construction industry, but there are still numerous needs for construction materials, finishes, and labor. And there's always an ongoing need for donations and volunteers. Contact Angela Biletnikoff with questions about the Foundation at (925)-556-2525 or Mandi Davis at Loder Construction at (916)-791-0445 if you'd like to contribute to this worthwhile project.
If you would like more information about Borges Architectural Group, visit: http://www.borgesarch.com. For more information on Tracey's Place of Hope and to view the remodel concept boards, visit The Biletnikoff Foundation.