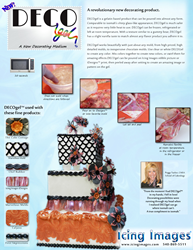 It's the best product that has come to cake decorating in years.
Winchester, VA (PRWEB) March 17, 2014
March 8, the month long spree of classes and demonstrations offered through professional cake decorators began with a demonstration by Peggy Tucker, Certified Master Sugar Artist and School of Cakeology, at the San Diego Cake Show, San Diego, California, where Tucker introduced DECOgel™ to show attendees.
Instruction will continue throughout the month at the National Capital Area Cake Show (NCSAS) at the Fairfax High School in Fairfax, Virginia; the Atlantic Bakery Dairy Deli Expo at the Atlantic City Convention Center in Atlantic City, NJ; and at the International Sugar Art Collection (ISAC) in Norcross, Georgia.
March 12, at 1:30pm EST, CakeFu.com featured an online class with Tucker and Susan Carberry, The Cake Cottage, demonstrating DECOgel. The recorded version of the class is available for public viewing at http://www.cakefu.com/masters-series/peggy-tucker-and-susan-carberry-81/.
March 31, Peggy Tucker will also be teaching students how to create animal print flowers at the ISAC's Spring Open House at Nicholas Lodge's Classroom using the Sweet Accents machine and iDesigns™ prints on Premium Icing Sheets™ from Icing Images.
March 29-30, NCSAS attendees can learn to work with Icing Images' latest products, DECOgel and the Spellbinders Sweet Accents for Icing Images.
Saturday, March 29, Sarah Myers, High Five Cakes and Spellbinders Design Team, will hold a class in edible card making, using the Sweet Accents system with Icing Images iDesigns, images for edible image use, and Isomalt to create a frame topper for a cake.
Sunday, March 30, Michelle Curran, Mitchies Munchies and Food Network's Sugar Dome, will teach a class called "Conversation Cupcakes" at NCSAS in which she will demonstrate how to work with DECOgel at NCSAS. The class will cover Super Hero and Comic Book themes , also using Icing Images' iDesigns™ patterns and Spellbinders® Sweet Accents™ machine.
"The more I work with DECOgel, the more amazed I become. My favorite feature of this product is the ability of it not losing detail if it accidentally recoils." – Michelle Curran, Mitchies Munchies.
Demonstrations will also be offered by Chef Mike Terry, CMSA, at the Atlantic Bakery Dairy Deli Exposition at booths 539 and 541 with Pheil & Holing, Sunday, March 30: 10am - 12:30pm & 3pm - 5pm and Monday, March 31 from 2 – 4pm. Terry will also demonstrate for the ABE at 12pm, March 31.
DECOgel is a gelatin-based decorating medium that is melted and either poured or molded to create decorations. Icing Images launched this new product at the end of February at the Upper Midwest Bakery Expo in Red Bank, Minnesota.
"It's the best product that has come to cake decorating in years."- Susan Carberry
"Since the introduction of DECOgel last month at the UMBA, we have had so many orders, we went on backorder and we are rushing more stock in to cover those customers' needs. What I love about this product is it fulfills a need in the marketplace. It is similar to isomalt, but needs very little heat to use and can go in and out of the freezer and refrigerator where isomalt cannot. So it gives decorators a sweet tasting gelatin with a glass like appearance that is extremely versatile and easy to use." – Deborah Coughlin, Icing Images owner.
Icing Images has been a leading distributor of edible photo and edible paper art supplies for over a decade, offering edible ink printers, edible ink, icing sheets, electronic and manual die cutters, and DECOgel to retail bakeries, home bakers and cake decorators.