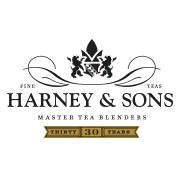 New York, NY (PRWEB) March 13, 2014
Harney & Sons Fine Teas celebrates 30 years and three generations of master tea blending. Founder John Harney began his journey in 1983, mastering the craft of tea blending from his first modest production facility: the basement of his home. Today, Harney & Sons Tea remains family owned and managed and the Harney family continues to collect the greatest teas around the world.
As a marker of Harney & Sons' foundation 30 years ago, the company has created a special 30th Anniversary Blend in honor of their founder. This special blend melds one of John's favorite teas, Ceylon & India, with Chinese Silver Needles and Yunnan Golden Tips. Along with this milestone blend, Harney & Sons launched individual serving tea capsules this year. Tea drinkers can now enjoy Harney & Son's most beloved teas with the convenience of the individual tea capsule. In addition to new products, Harney & Sons expanded their reach through a national roll-out in Target. Harney & Sons Tea now lines the shelves of 1,600 Target stores around the country, making their quality luxury blends affordable and accessible to all.
John Harney remembers, "It was a mere 30 years ago that I started this journey of Harney & Sons. And I am quite pleased at the progress. At the beginning, it was just me [and] a few teas. Now, my sons assist me with many others and we offer you over 300 teas." Harney & Sons continues to grow with the family, who work together to preserve the established tradition of fine tea.
The Harneys reflect on their 30 years of success as a family business. Three generations work together, continuing John Harney's mission to provide the world with quality tea: John's sons, Paul and Michael serve as the company's vice presidents and Michael's wife Brigitte, and two sons, Alex and Emeric each hold a dynamic role in the company. Emeric is the manager of the Harney & Sons Soho Tea Shop; he is also involved in blending and takes a lead in the company's branding and marketing initiatives. Alex Harney is the manager of the Harney & Sons Café in Millerton, New York, and has become the company's director of film and photography. Alex and Emeric have traveled around the world searching for the finest ingredients, following in the footsteps of the previous Harney generation. This multi-generational operation preserves the idyllic foundation of American family business.
About Harney & Sons Fine Teas
Headquartered in Millerton, New York, Harney & Sons Fine Teas fills 90,000 square feet of warehouse space and employs more than 170 people. The family company sources, blends, and packages their own product from start to finish. Their goal is to bring the exotic aromas and refined tastes from around the world to tea drinkers as an affordable luxury.