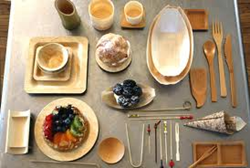 When people find products they know, it makes the decision to buy much easier.
Philadelphia, PA (PRWEB) March 18, 2014
Why Focus on Brands?
For products that are not yet mainstream, consumers have a hard time trusting the names of eco-friendly supplies they do not know. Customers want to know what they're buying and how it works—but in a market as specific as green restaurant supplies, reliable and consistent information can be hard to find. That is why it is important for suppliers to not only offer products that are trustworthy and reliable, but to educate their customers as well. Though they are few, some sites exist within this niche that do just that.
MorECO Commerce, parent company of FoodBizSupply.com and EcoCateringSupply.com, prides itself on a wide selection of name-brands. According to COO Kyle Morley, the availability of household names puts customers at ease: "When people find products they know, it makes the decision to buy much easier." Morley believes that the market for eco-friendly supplies is currently limited, and this is why customers have such a hard time finding what they want. "That's why we're taking initiatives to ramp up our brand selection."
What's New?
With the increased traffic that comes from the spring season, FoodBiz has been adding new products from popular brands every week. Names like Eco-Products and Ecotainer have been available on the site for years, but new designs are constantly becoming available.

Pack-N-Wood has always been popular, but their new "Kray" and "Buckaty" collections feature grease-proof, microwavable to-go containers that are biodegradable and sophisticated.
Ecotainer is also a go-to manufacturer for any savvy shopper, and the consistent prices on new designs make them a top seller. Their products are 100% compostable.
Duro bags and Tulsack bags are the number-one brands for custom printed paper bags, and the availability of new sizes makes it easy to find the perfect fit. This brand features recycled and biodegradable materials.
FoodBizSupply's focus on consumer convenience has spurred this expansion in their already vast brand selection. These web stores offer one-stop shopping of over 600 products for restaurants, hotels, caterers, wineries, cafes, coffee shops, yogurt stores and even home businesses.Their mission to make eco-friendly options accessible are clearly mirrored in their growing product offerings, and they hope to set an example for the rest of the market. For more information, make sure to check them out on Facebook, Google+ and Twitter.
Find comfort in the brands you know and learn about the ones you don't, so shopping doesn't have to be a chore.