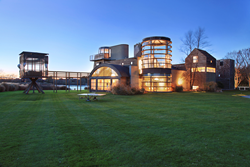 Sagaponack, New York (PRWEB) March 13, 2014
It is this stunner; an Agrest & Gandelsonas designed residence currently being offered by Tim Davis through the Corcoran Group, that has captured the attention of local residents, design aficionados and would-be Hamptonites alike.
Simply reaching the home is a delight in itself. Traveling through the modern yet charmingly rustic front gate, guests are given their first glimpse of the spectacular water views afforded by the estate as well as of the vast garden of wildflowers bordering the property to the west. A canopy of trees, their branches dipping overhead, lends an almost fairytale quality to a drive that ultimately delivers you to a home that is unimaginably unique, impossibly distinctive.
Rising up from the earth that was once farmland and with the romantic rippling of Sagaponack pond at its back is a home that can only be described as a wildly futuristic farmhouse; a cacophony of opposites where cylinders and silos, cedar and cement, glass, curves, glass and angles jockey for position to capture the imagination as well as
the view.
Contained within six thousand meticulously thought out square feet; the home boasts impressive spaces and startlingly beautiful elements including a master suite that is full of surprises, a library in the round – housed within the lower level of the great glass cylinder that is one of the home's architectural trademarks, seductively arced ceilings in both the living space and gourmet kitchen and six additional bedrooms.
Despite the tranquil retreat and serene surroundings, more energetic residents and guests of the home needn't worry about keeping themselves amused. The four and a quarter acre property boasts a full size basketball court; tennis courts, rolling lawns, a pool and pool house as well as direct access to Sagaponack Pond via the private dock. If even more space is desired, the wild flower fields adjacent the property may be obtained as well.
While it will always carry the title of quintessential summer escape, more and more of Sagaponack's nearby tony restaurants and boutiques within East Hampton and Bridgehampton now operate year round, affording residents the opportunity to let their warm weather escape become their four season home.