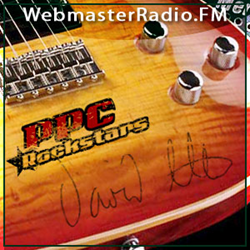 PPC Rockstars is Back!
Boca Raton, FL (PRWEB) March 13, 2014
PPC Rockstars, one of WebmasterRadio.FM most downloaded radio series on online advertising and PPC, is proud to welcome back the show's original host David Szetela. The series returns Thursday April 3rd at 1pm Eastern Time.
David is a former Apple Computer executive and serial entrepreneur, and has been one of the world's best-known experts in PPC and online advertising. He has authored two best-selling books on PPC advertising entitled "Customers Now: Profiting From the New Frontier of Content-Based Internet Advertising" and "Pay-Per-Click Search Engine Marketing: An Hour a Day".
"I'm thrilled to be working again with the ultimate pros at WebmasterRadio.FM." Szetela said. "I'm really looking forward to bringing back 'old' favorite guests like Matt Van Wagner, Andrew Goodman and Brad Geddes, and introducing new guests like Larry Kim, Elizabeth Marsten and Matt Umbro. Together we'll make PPC Rockstars a "must-listen" resource for PPC managers from beginners to experts, delivering valuable news, techniques and tips about Google AdWords, BingAds and other PPC advertising platforms."
PPC Rockstars made its debut on WebmasterRadio.FM in May 2008. On his return episode, David is scheduled to interview his very first guest, FindMeFaster's Matt van Wagner.
"I am thrilled to have David come back home once again," said WebmasterRadio.FM program director Jorge Hermida, "David started this series and had an incredible run. With the help of some incredible people (Marty Weintraub, Location3 Media), they carried the proverbial torch to keep this show going and now David is back to continue developing content that gives our listeners the ultimate edge on PPC marketing."
Listeners are able to interact with questions and comments to the host and guests for each interview, as well as all live WebmasterRadio.FM programming, by following us on Twitter (@webmasterradio), Facebook, LinkedIn, Google+ and our live real-time interactive chatroom. Links to our respective social media pages and our chatroom can be found on our home page on WebmasterRadio.FM.
New episodes of PPC Rockstars (Starting April 3rd) will air Thursdays at 1pm Eastern/10am Pacific on WebmasterRadio.FM or on demand in the WebmasterRadio.FM archives inside the Advertising Channel or through iTunes, Stitcher, Zune Marketplace and the WebmasterRadio.FM Mobile Application for iOS and Android Smartphone devices.
About WebmasterRadio.FM
WebmasterRadio.FM lifts the "veiled curtain" of the Internet, bringing the business community together through an interactive radio network. Its listeners are a global group, comprised of everyone from corporate executives and decision makers to small and mid-sized businesses and individual entrepreneurs.
WebmasterRadio.FM's stellar line-up of radio programming includes; "Market Edge" with W2 Group Owner and Chairman Larry Weber , "Purse Strings" with Carmichael Lynch Spong senior principal Maria Reitan and the "CyberLaw and Business.
Report with Internet Law Center Founder Bennet Kelley.
To tune into WebmasterRadio.FM's live content or check out the show lineup, please visit http://www.WebmasterRadio.FM. All WebmasterRadio.FM programs are available in podcast format through all major podcast portals (including iTunes, TuneIn, Stitcher and Zune Marketplace), as well in archived format on-demand through our proprietary mobile application for iOS and Android smartphone devices.
Media Contact:
Brandy Shapiro-Babin
954-309-5578