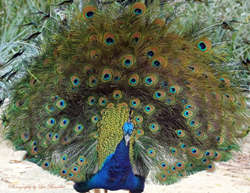 "This gentleman looked directly at me and did his mating dance and I started clicking away," says Benedict
(PRWEB) March 13, 2014
A proud peacock with his glorious feathers spread and two beautiful blue jays feeding in a backyard are the winners in the USDA Cutest Bird Photo Contest for the month of February. Lasanthica (Las) Benedict of Anaheim, CA and Shannon Mayer of Elgin, IL took the prizes in each of two categories in the Biosecurity For Birds competition.
Benedict's photo of a handsome peacock at the Los Angeles Arboretum won in the category of Cutest Bird. "This gentleman looked directly at me and did his mating dance and I started clicking away," says Benedict.
Benedict says that she just discovered her knack for photography last year and birds are her favorite subject.
An avid environmentalist, Benedict's love of birds has led her to learn more about how to keep them healthy and safe from predators. "I'm very careful not to get too close or do anything to upset their surroundings, and I'm careful not to feed them anything inappropriate," she says.
Mayer, who has several feeders in her backyard for various animals, said that the attractive blue jay couple "comes around regularly to enjoy the peanuts that I offer." Her photo won in the category of Cutest Bird Family.
"Blue jays are the most aggressive birds I see," she says, adding, "The ones who visit my yard are also the fattest."
She too makes a point of learning more about keeping the birds that visit her yard safe and healthy. "I have separate feeders and a heated waterer, and I clean them all thoroughly and regularly," she says. "I'm determined to keep this a healthy environment for the animals." She also stays a reasonable distance away from the birds that she is watching or photographing.
The four month Cutest Bird Photo Contest began in December 2013 and will run through the end of March. At the end of each month, the winning photos are posted on the Biosecurity For Birds website. The winners will be considered for inclusion on the 2014 Biosecurity For Birds Calendar. For an entry form, contest rules and more information visit http://healthybirds.aphis.usda.gov.
The Biosecurity For Birds program, begun in 2004, is designed to educate backyard poultry owners and bird enthusiasts about highly contagious poultry diseases and other threats to birds. The program helps inform bird lovers how to prevent disease and tells them what to do if they suspect their birds are infected.
-30-
Media representatives may contact Joelle Hayden at joelle.r.hayden(at)aphis.usda(dot)gov (301) 851-4040 or Pam Goldstein at pgoldstein(at)diversitymc(dot)com 973-377-0300, Ext. 14.