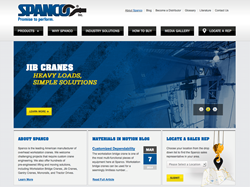 (PRWEB) March 13, 2014
Spanco, Inc., a leading provider of overhead material handling solutions, announces the launch of its newly updated site, http://www.spanco.com.
Along with refreshed interfaces, product pages now include bid specifications, design standards, warranty information, case studies, and updated application photos and testimonials. The Materials in Motion blog will cover various industry related topics each week, ranging from categories tailored to engineers, to specific industry solutions and standard practices in manufacturing and fabrication.
According to Spanco Marketing Manager Mike Evanko, "Our material handling systems make the toughest jobs easier. The goal of this new site is to make our customer's buying process easier by providing the information they need in a way that is user friendly and readily accessible."
The new Spanco site has been completely optimized for mobile use, allowing users to quickly visit the site from any internet connected laptop, desktop, smart phone, or tablet.
Accompanying the site is Spanco's new dealer network and crane pricing tool, the Lift Lab™. The Lift Lab was created for the specific needs of Spanco distributors and provides fast, accurate quotes on the spot for customers.
Spanco, Inc. is headquartered in Morgantown, Pennsylvania, and is a leading American provider of pre-engineered and custom overhead material handling solutions. Visit our website to learn more about our lines of Gantry Cranes, Jib Cranes, Workstation Bridge Cranes, and Monorails.