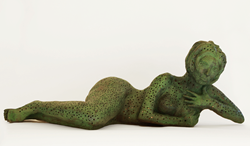 "The sculpture is about being vulnerable with her emotions leaking out through the light."
West Palm Beach, FL (PRWEB) March 17, 2014
Surreal Sculpture Artist, Cheri Mittermaier was taking a workshop with Peter Rubino at the Armory Arts Center in 2006. He challenged the class to build really large reclining figures. She was scared, this was the 5th sculpture she had ever made. Luckily Cheri was building without an armature. As you may know an armature is an internal structure that supports the piece. Mittermaier was driven to distraction by how curvy the model was. She wanted to reflect this in her work.
Peter is an amazing teacher, got Cheri through 200 pounds of clay in 5 days.
Mr. Rubino returned to Connecticut and Mittermaier was left with an humongous drying sculpture. Time was running out, the piece was made out of water-based clay. If Cheri did not hurry and hollow it out, it would turn into a pile of dust before firing.
Enter Brian Somerville. He had just received his Master's degree in Fine Art and had begun teaching at the Armory Arts Center. Lucky for Cheri, Brian came to her rescue. Brian helped her painfully hollow out the 200 pound sculpture and put it back together. It only weighed 45 pounds when they were done. So when it was at its most fragile state, Cheri got this crazy idea to drill holes all over the body. She drilled hundreds of holes, all different sizes. And then the sculpture was fired. Mittermaier painted her in patchwork colors. She did not know what to do with the holes, there were lots of suggestions, flowers, feathers, sparklers, and to have water shooting out of the holes. Finally, Cheri got the idea for light.
Mittermaier had tried to put the sculpture in a couple of shows and failed. So the piece sat in storage for a few years. Finally one day, she got into Hennevelt's Gallery and Gifts. Freddy Hennevelt asked Cheri for something large to put into his front window. So Mittermaier bronzed "200 Pound Woman" and the sculpture became "Vacuna". The sculpture is lighted from within and when you walk past it, "Vacuna" looks like she is lined in gold. Many people think that being exposed and showing emotion is a sign of weakness when in fact it is great strength of character.
Surreal Sculpture Artist, Cheri Mittermaier was born in 1962 in the state of Indiana, USA. She is a graduate of Purdue University with a Bachelor's degree in Psychology with a concentration in Fine Arts and Humanities. Cheri lives and works in West Palm Beach, FL USA.