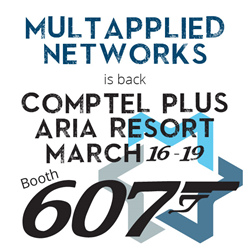 Comptel provides us with a setting that is perfect for partnership and technological discussions.
Vancouver, British Columbia (PRWEB) March 13, 2014
Multapplied Networks, a Vancouver-based Link Aggregation Software Provider, today announced its intention to exhibit at Comptel Plus Spring 2014 Convention and Expo March 16-19 at the Aria Resort and Casino in Las Vegas, Nevada. A core event for the communications industry, Comptel Plus links innovative communication companies with their supplier partners offering opportunities to learn about new products, services and industry trends.
This will be the second time Multapplied has attended the event, having had a successful show in 2013. "We had a really great show last year," explains Global Vice-President of Sales Jake McGuire. "We're excited to go again and further develop relationships within the communications industry. We have developed a solution that solves a lot of the challenges experienced by service providers and Comptel [Plus] provides us with a setting that is perfect for partnership and technological discussions."
Multapplied Networks will be taking the opportunity to speak with potential new channel partners and will be showcasing:
1. Its Channel Sales Program Benefits and Opportunities
2. Latest Developments in the software, including Site-to-Site VPN functionality for IPVPNs
3. Case Studies of current implementations of the software
In addition, the company will be booking demonstrations of the bonding software that allows customers to combine the bandwidth of multiple Internet connections – whether from the same Internet Service Provider (ISP) or not. Bonded Internet™ allows for seamless failover between Internet connections and provides a built-in, fully-customizable Quality of Service engine to virtually eliminate network voice quality issues when mixing Voice and Data over the same connection.
For service providers interested in learning more about Multapplied's solution, they are invited to visit: http://www.becauseuptime.com.