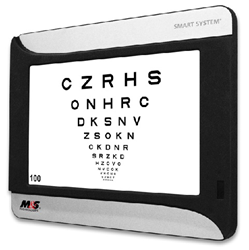 We are again honored to be chosen by the NBEO for use in Part III testing of graduating Optometric Students.
Niles, IL (PRWEB) March 14, 2014
The Smart System from M&S Technologies, the first name in computerized vision testing systems, has been chosen once again as the refraction system of choice in the Part III tests administered by the National Board of Examiners in Optometry.
The NBEO has developed state-of-the-art examinations (Parts I, II and III) that fairly and accurately assess candidates' knowledge and clinical skills at various stages of their optometric education. The examination scores are utilized by state boards of optometry as they evaluate applicants for optometric licensure. All 50 states, the District of Columbia, and Puerto Rico require Parts I and II, and 48 states plus the District of Columbia and Puerto Rico require Part III. The goal of the NBEO is to ensure that passage of all three Parts assures competence at an entry level of optometric practice, which in 2014 encompasses a sophisticated scope of abilities following intensive training in contemporary optometry schools and colleges.
"Considering the plethora of vision testing systems available on the market today, we are again honored to be chosen by the NBEO for use in Part III testing of graduating Optometric Students. We developed the Smart System 20/20 as a comprehensive, accurate and easy-to-use system that could be applied to any discipline in the vision testing segment. M&S continues to maintain an extremely high level of quality to be selected as the best device for tomorrow's eye care professionals." - Joe Marino, President
About M&S Technologies:
Founded in 1990, M&S Technologies is a software company specializing in visual testing systems and dedicated to developing the very best products for eye-care professionals, optometry schools and universities, and products used in clinical trials. To date, over 23,000 systems are in use across 39 countries with a growing network that includes 23 distributors and several strategic industry alliances. Superior service, industry-leading technology and products that define the cutting edge have been the hallmarks of M&S for over 20 years.
For more information, please contact:
Carolyn Crabb
Marketing Coordinator
M&S Technologies, Inc.
847-763-0500
ccrabb(at)mstech-eyes(dot)com
http://www.mstech-eyes.com