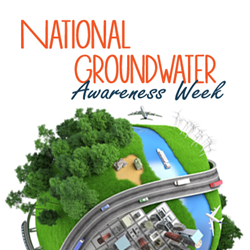 City of Industry, CA (PRWEB) March 13, 2014
The 16th annual National Groundwater Awareness Week will take place this week from March 9-15th. Started by the National Ground Water Association, this national awareness campaign emphasizes the importance of preserving the quality and sustainability of America's groundwater. The United States uses 79.6 billion gallons of fresh groundwater every day for agriculture, livestock, manufacturing, thermoelectric power and more. Basically our modern society would grind to a halt without it. While the water used in these industries is carefully maintained and monitored, what about the sources people use for drinking, cooking and bathing? This is an important question because groundwater is also the main source of potable water for 15 million U.S. households in rural areas that rely primarily on private wells. With all the recent news about chemical spills contaminating natural drinking water sources, this year's campaign couldn't have come at a more needed time.
In just the first three months of 2014, several high profile water contamination events have captured national media attention through the sheer magnitude of their scale and importance. In January, a West Virginia energy company released 7,500 gallons of hazardous chemical MCHM into the Elk River resulting in the subsequent banning of tap water use for nine counties in that state. A month later, 82,000 gallons of coal ash was released into the Dan River in North Carolina, raising concerns from communities that get their water from the river and groundwater. While these were isolated incidences, groundwater contamination can occur anywhere, including from coal mining, natural gas fracking, agricultural activities, municipal landfills, septic tanks, surface impoundments, and hazardous waste disposal facilities. For people that are exclusively on private wells, the risks of polluted groundwater are higher because the quality of the water is managed by individuals and not the city. The current National Groundwater Awareness Week is a great opportunity for discussion by well owners, and one topic of key importance revolves around the necessity of water purification systems used in the home.
As a leading American water filtration systems manufacturer, APEC Water understands the special needs of well water customers. They recommend that all well owners run a comprehensive test on their water at least twice a year. This test should cover a wide range of pollutants including chemicals, heavy metals and microbial contamination. In rare cases where contamination is severe, professional groundwater remediation will be necessary. However, most well water issues can be resolved by installing an easy to maintain whole house water filter. APEC Water offers a wide selection of water purifiers that will effectively treat many common groundwater pollutants such as arsenic, bacteria, iron, lead, nitrates, radon, and chemicals such as pesticides and herbicides. However, they warn that while well water home treatment is helpful, there is no substitute for proper diligence in care, monitoring and maintenance when it comes to protecting groundwater sources for people today as well (probably too playful with the quotation mark) as future generations.
About APEC Water
For over 17 years, APEC Water has been an industry leading manufacturer of high performance residential and commercial water purification systems. Based out of Southern California, APEC specializes in building the highest quality whole house water filters and reverse osmosis drinking water systems right here in the USA. The company offers their products exclusively through their website at Freedrinkingwater.com which also provides an extensive water filtration guide and library to the public. To learn more about APEC Water and their well water purification systems, please visit http://www.freedrinkingwater.com or call customer service at 1-800-880-4808 for more information.