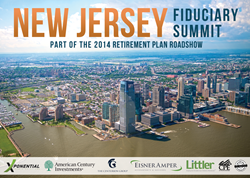 the insights that employer's will receive from our industry leading speakers will be invaluable in reaching retirement plan optimization
Bridgewater, New Jersey (PRWEB) March 27, 2014
Coming to the Bridgewater Marriott in Bridgewater, New Jersey, the 2014 New Jersey Fiduciary Summit invites proactive retirement plan sponsors, human resources and finance executives, trustees and business owners in New Jersey to discuss and listen in on strategies for improving participant outcomes. Hosts, The Centurion Group and Xponential Growth Solutions, have gathered local panels of experts and plan sponsor peers for an interactive and enlightening session.
Topics of discussion will include: what every fiduciary needs to know for 2014, a regional and economic update, 2014 audit & compliance updates & best practices, and a plan sponsor panel discussing local case studies and success stories.
Joseph E. Bartnicki, EVP & Partner of The Centurion Group, affirms, ""At the Centurion Group, we hold true to a core belief that all Plan participants are entitled to the very best retirement program available to a Plan of their respective size. Funds and fees are very important, however, operating a successful retirement plan goes way beyond the obvious. We are proud to be participating in the NJ Fiduciary Summit, as we believe that the insights that employer's will receive from our industry leading speakers will be invaluable in reaching retirement plan optimization". Bartnicki will be speaking alongside a group elite retirement plan experts including Kristie DeAngelo and Brenda DeSaro of EisnerAmper LLP, and Diane Gallegher of American Century. Joining them will be Melissa Kurtzman & Steve Friedmen of Littler Mendelson.
The 2014 New Jersey Fiduciary Summit will be held at the Bridgewater Marriott on Thursday, April 24th 2014 from 11:00 AM to 2:30 PM (lunch will be served). The 2014 New Jersey Fiduciary Summit is approved for 3 CPE/CPA Credits and 3 hours of HRCI/SPHR/PHR/GPHR General Credits. Seating is limited and priority will be given to local plan sponsors, with the $150 registration fee waived on a limited basis for qualified registrants. For additional details and registration information click here.
About Centurion
The Centurion Group functions as true independent consultants; who are both vendor and investment neutral. the Centurion Group brings our clients unbiased advice, innovative designs, sophisticated solutions, fiduciary risk management and experience-backed recommendations, all with the aim of helping clients improve their plans. Theirclients include prominent corporations, governmental entities and not-for profit organizations that share a common interest in offering employees the best possible retirement plans.
Joseph Bartnicki is a registered representative with LPL Financial, Inc. Securities offered through LPL Financial. Member FINRA/SIPC. Investment advice offered through Centurion Group LLC, a registered investment advisor and separate entity from LPL Financial.
Xponential Growth Solutions (XGS) unites 401(k), 403(b) and retirement plan sponsors with elite resources and exclusive connections. Through research, fiduciary summits, and industry expertise they help the nation's retirement plan sponsors, fiduciaries, and trustees evaluate their plan and navigate the retirement plan industry. XGS also founded the Retirement Plan Roadshow, a national series of fiduciary educational summits dedicated to human resources, finance and business professionals in charge of America's 401(k), 403(b), and retirement plans.