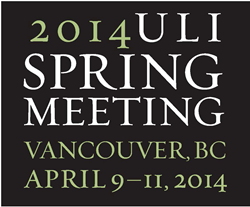 Vancouver, British Columbia (PRWEB) March 12, 2014
Canada's top real estate and land use leaders will gather with other global industry icons April 9-11 in downtown Vancouver, British Columbia for the Urban Land Institute (ULI) 2014 Spring Meeting. This year's meeting, which represents the first time one of ULI's two major annual all-member meetings is being held outside the U.S., will take place at the city's Convention Centre.
Fully open to the press, the meeting will place a heavy emphasis on real estate finance and development trends in Vancouver and the rest of Canada, with an educational focus on how these can serve as models for successful real estate projects in other countries. Highlights from the Canadian track of programming include:

The Canadian P3 Model: Will It Work in the U.S.? - Canadian real estate developers and investors have a good track record creating successful public private partnerships to design, build, finance, operate and maintain their cities' development projects. Many Canadian-based companies are now focused on similar opportunities in the U.S. and U.S.-based companies are trying to follow their example. But, they are both discovering that the governmental structure, political environment, and risk-reward expectations in their countries are very different.
A Model for Building Healthy Places - Vancouver is known for being an active and healthy city, but how has it achieved this reputation? A series of deliberate policy initiatives aimed at promoting mixed-use, walkable, transit-oriented, resilient, and adaptive buildings and communities have created an environment where healthy lifestyles and sustainability work hand in hand, and capitalize on the City's natural beauty and gentle climate.
Vancouver as an Urban Laboratory - What you see today in Vancouver is the distillation of pioneering planning policies, innovative architecture and highly creative developers all working to build a world class city. Vancouver has become known for its energetic experimental approach to urban issues leading to its international reputation as a leader in progressive urban development. This enterprising approach now reaches around the world and extends across the local region exemplified by Surrey, one of the fastest growing cities in Canada.
When Local Becomes Global: The Evolution of Three New International Cities - Vancouver, Miami and Houston have recently joined the ranks of international gateway cities. Each has achieved this status under different circumstances, but there are many common elements that could be applied by other cities that wish to expand their global presence.
Revolution of Successful Mixed-Use Development - Initially mixed-use was key to the revitalization of Vancouver's downtown but now it is seen as a major component of successful urbanization throughout the region. What makes for a diverse range of successful mixed-use developments and how has that driven land development success in the Canadian context? What can be exported?
Vancouver as a Gateway City - Why does Vancouver work so well as a Gateway City? The combination of significant foreign capital and diverse immigration arriving into the region, driving real estate development and natural resources being exported through the fourth largest port in North America as well as Canada's premier airport are significant parts of the equation.
Apartments and the International Investor: What's the Appeal? - Apartments were the last property type to be considered institutional in the U.S. and Canada in the 1990s and now their allure has extended beyond American and Canadian investors to international investors. What attracts foreign investment in the US apartment market? Will they invest in markets? Will they be a sustainable source of capital?
The Vancouver location reflects ULI's growing international presence and is also indicative of the strong business relations between the host city and many markets throughout Asia – where ULI's membership is growing rapidly. To familiarize attendees with Vancouver, the meeting offers a range of tours throughout the city. These special interest tour topics range from Richmond Oval and leveraging Olympic legacies to Gastown and the resurgence of Canada's stylish neighborhoods.
This ULI meeting, open to Institute members and the media, brings together the top thought leaders and practitioners for candid discussions about what works, what doesn't, and what's next for the industry. Join us in Vancouver to hear prominent guest speakers, knowledgeable panelists, and attend content-rich real estate sessions.
The ULI Spring Meeting brings together nearly 3,000 of the globe's top real estate leaders for sessions renowned for providing journalists with the most timely and relevant analyses of where the industry is heading, offering unprecedented access to some of the globe's most influential real estate leaders. Request your complimentary press pass today.
Note to Reporters and Editors: Registration is free to members of the media; to register, please fill out this brief online press registration FORM.
About the Urban Land Institute:
The Urban Land Institute (http://www.uli.org) is a global nonprofit education and research institute supported by its members. Its mission is to provide leadership in the responsible use of land and in sustaining and creating thriving communities worldwide. Established in 1936, the Institute has over 30,000 members representing all aspects of land use and development disciplines.